Philippine Red Cross: Make preparedness a way of life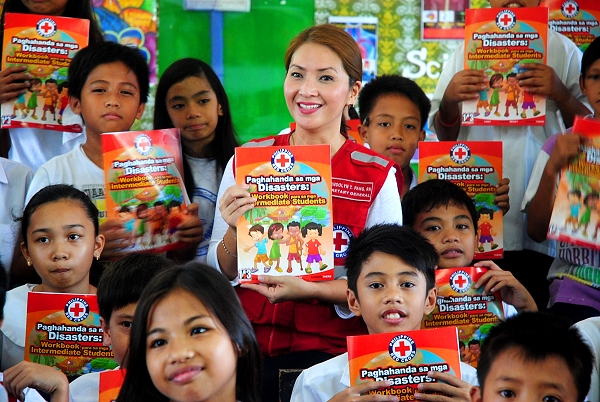 18 May 2015
(This story was first published last week on the IRIN humanitarian news and analysis website. Climate Centre Director Maarten van Aalst examined the role of climate change in storm damage in the Philippines last December after Typhoon Hagupit coincided with UN climate talks in Lima, Peru. Noul is the strongest storm to hit the Philippines this year.)
Powerful Typhoon Noul swept through the far northern Philippines on Monday [11 May], killing two people, but officials and aid agencies said a greater impact had been averted because people had learnt to heed warnings in the wake of the Haiyan disaster.
Bringing sustained winds of up to 160 kilometres per hour and gusts up to 195 kph, there had been fears that Noul would cause a greater loss of life, as well as do widespread damage to property and agricultural land.
The Category 5 storm blew the roofs off some homes and felled trees and power lines, but officials say the impact of the Category 5 storm was mitigated by timely warnings and preventative action.
Emergency crews had been put on standby and thousands of food packs, tents and portable toilets placed at the ready. 
Some 3,000 people were moved out of harm's way before the typhoon made landfall in the province of Cagayan, including some forced evacuations in vulnerable coastal areas.
According to the Philippine Red Cross and the National Disaster Risk Reduction and Management Council, more than half the 27 camps set up to accommodate those displaced by the storm had already been closed by Monday morning.
Roads were being cleared of debris as Noul moved away in the direction of Japan, and people began heading home. 
"Hopefully, the timely preparations and warnings by the state forecasters contributed to the fact that minimal damage was sustained," presidential spokeswoman Abigail Valte told IRIN. 
"The government's performance in past typhoons shows that we have the capability to keep doing better in terms of disaster risk management and reduction."
Early warnings 
Valte said lessons from Haiyan "continue to guide officials and citizens in ensuring that communities are better prepared every time."
The Secretary General of the Philippine Red Cross, Gwendolyn Pang, agreed that the response to Typhoon Noul had broadly worked.
"Although there are still some areas that we are having difficulties reaching, from our reports we can say that most people are aware now and know what to do."
Improvements are still needed to avoid any possible repeat of the tragedy inflicted by Typhoon Haiyan (known locally as Yolanda), which left more than 7,000 people dead and around one million homeless in 2013, Pang cautioned.
"When we started post-Haiyan [recovery efforts], there was total destruction," said Pang.
"We didn't even know where to start or how to help. Logistically it was very difficult to bring people on the ground and help."
Build back better? 
A year and a half on, the focus is on working towards long-term resilience or, in the oft-quoted parlance of post-disaster recovery, to "build back better". 
"That is why you can see there are still some people living in 'no build zones' [areas the government has declared too dangerous for communities to continue to live in]. We have to make preparedness a way of life, and not just when there is disaster," said Pang. 
While rebuilding has proved difficult post-Haiyan, livelihoods are slowly getting back to normal. 
Liberty and Eduardo Gonzaga, who live with their son and grandson in central Iloilo province, used a conditional cash grant of 10,000 pesos (about 200 US dollars) from the Red Cross, and seeds provided by other donors, to replant their land. 
Gonzaga now sells the produce each week at the local market. 
"I can now support our needs, including my son's education," she said. " I no longer need to apply for loans to survive."
Gwendolyn Pang visits Santulan Elementary School in Malabon City in August 2013 to help launch a programme on disaster risk reduction for children. She said: "We're targeting [children] because of the multiplier affect this has on the community. The children go home and tell their siblings, their parents and even their grandparents, so all of a sudden we have households thinking about and preparing for the next disaster." Pang told IRIN news last week that disaster preparedness had to be a "way of life" in the Philippines. (Library photo: Maria Febbie Alacapa/Philippine Red Cross via IFRC.)