IFRC reference centres 'help solve new problems in a rapidly changing world'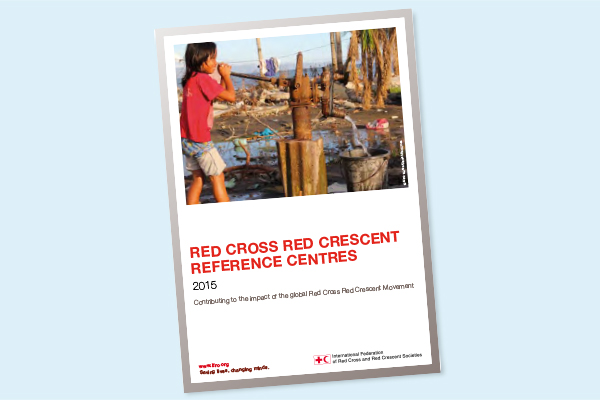 13 May 2015
The IFRC secretariat yesterday released a new guide to its specialist reference centres, of which the Red Cross Red Crescent Climate Centre, hosted by the Netherlands Red Cross in The Hague since 2002, is one.
"Working in close coordination with the IFRC secretariat," says IFRC Secretary General Elhadj As Sy in a foreword, "the reference centres are part of an inclusive and collaborative network designed to provide technical assistance, information sharing, research and advocacy to the Movement.
"Each of these centres integrates the experience of the world's largest humanitarian network with the latest research, innovations and developments in various fields, developing strategically important knowledge and best practices…
"In addition, the centres serve as spaces for creative thinking that help the Movement to continue to grow and innovate, improving existing services and helping solve new problems in a rapidly changing world."
The brochure offers what it calls a snapshot of the services of the 13 IFRC "centres of expertise" around the world.
Mr Sy said he was encouraging National Societies to "reach out" to whichever centres can support their work.
The full list of the centres detailed in the new guide is given as follows:
– Caribbean Disaster Risk Management Reference Centre – Barbados
– Centre for Evidence-Based Practice – Belgium
– Climate Centre – Netherlands
– Global Disaster Preparedness Centre – US
– Global First Aid Reference Centre – France
– Livelihoods Resource Centre – Spain
– Reference Centre for Community Resilience – Costa Rica
– Reference Centre for Institutional Disaster Preparedness – El Salvador
– Reference Centre for Psychosocial Support – Denmark
– Shelter Research Unit – Belgium, Netherlands, Luxembourg
– Reference Centre on Volunteering – UK, Spain
– Regional Reference Centre for Medical Emergencies and Pre-Hospital Care – Ecuador
– Global Advisory Panel – Australia, Switzerland
Reference centres carry out delegated functions of the IFRC. They are hosted by National Societies and each focuses on a thematic area, supporting the strategic exchange of knowledge essential for humanitarian operations.
They provide training, technical assistance, advocacy, knowledge management, and research, making sure the resources they provide "are of the highest quality, readily accessible and adapted to local needs," as the IFRC brochure puts it.
The overarching mission of the Climate Centre is to help Movement components and other partners reduce the impacts of climate change and extreme-weather events on vulnerable people.
'Huge impact'
Walter Cotte, the IFRC's Under Secretary General for its Programme Services Division, said in an email introducing the brochure: "As the skills and experience of each of the centres has grown, so to have the contributions centres are making to the work of National Societies.
"In many cases I have personally witnessed this increased collaboration and the direct benefits it provides to National Societies. We still have work to do, but judging by the last few years' progress we are on the right track.
"The dream of one plan, one system, one IFRC, and one huge impact is becoming reality."
The guide to the reference centres was developed with the assistance of the Global Disaster Preparedness Centre, hosted by the American Red Cross.
The cover of 'Red Cross Red Crescent Reference Centres 2015, Contributing to the impact of the global Red Cross Red Crescent Movement' – a new publication from the IFRC offices in Geneva that details the work of 13 specialist centres worldwide. (Source: IFRC)