A Pacific first: understanding climate risk through games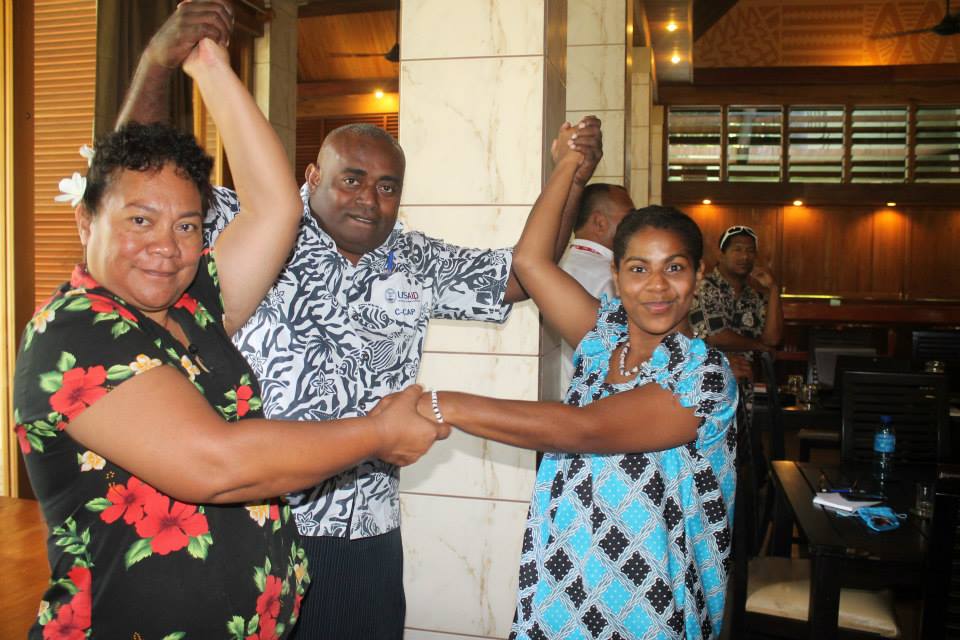 20 April 2015
In a first for the Pacific, community-focused teams from ten Pacific island nations have come together to experience the power of games in helping communities understand risk in a changing climate, and build resilience critical in a region highly vulnerable to climate impacts and disaster.
A unique collaboration brought the "Games for a New Climate" workshop to the Pacific, involving the Pacific Centre for Environment and Sustainable Development (PaCE-SD) through the European Union's Global Climate Change Alliance at the University of the South Pacific, and the United States Agency for International Development's Coastal Community Adaptation project.
The two-day workshop held in Savusavu town – in the Fijian province of Cakaudrove, on the south coast of Vanua Levu island – connected at least 35 participants from across the region, including representatives from the IFRC Pacific region office and the National Societies of Fiji, Papua New Guinea, Solomon Islands, Samoa and Tuvalu, and local coordinators from the EU- and USAID-supported projects .
Participants experienced the power of games to engage the senses, communicate risks, and demonstrate the consequences of individual and collective decision-making.
Innovation and collaboration
This included preparedness actions in Ready, and deciding whether to invest in preparedness or risk the impact of a disaster in a changing climate in Paying for Predictions.
Participants learnt how to apply them in their work with communities on climate change adaptation and disaster risk reduction.
The intersection between games and the passion of participants created a space for innovation and collaboration, participants said.
"When we combine that sort of contagious passion with the games then we created magic – we could all very quickly recognize the power of games in connecting us to one another and to communities," said Elisabeth Holland, Director of PaCE-SD.
When games were introduced into response training at Korotasere village in Cakaudrove, involving the National Disaster Management Office, the Fiji Red Cross and the Fiji Disabled People's Federation, Holland saw a remarkable demonstration of their impact.
"To me was the greatest indication of success," she said, "when we can begin to attract other people to engage in what we think is important simply by injecting a game."
'Hands-on'
Lesu Waqaniburotu, IFRC Regional Disaster Risk Reduction Manager, said: "Many National Societies were aware of games for ice-breakers, but not that they could use them for learning – especially on issues it might be hard to stand up and talk about. The games break those barriers.
"I think the whole idea of bringing innovation and games to the Pacific is important because it sits well and extends the participatory way we work with communities."
With games, according to Birtha Richmond-Togahai, Director of Education on the small island nation of Niue and a community coordinator, "you get to use all your senses simultaneously because you have to think and act at the same time. 
"This is very fitting because Pacific people – children, men, women, youth –learn best by being hands-on and participatory."
Participants at the Savusavu workshop. "Many National Societies were aware of games for ice-breakers," said one, "but not that they could use them for learning – especially on issues it might be hard to stand up and talk about." (Photo: PaCE-SD)