'Paying for predictions' at Tacloban media workshop on climate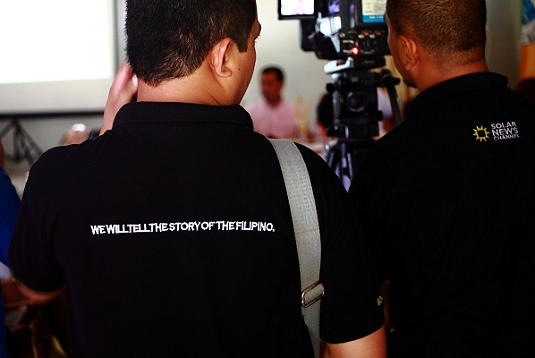 1 April 2015
The Philippine Climate Change Commission (CCC), jointly with the United Nations Development Programme and the Australian government, late last week held a two-day workshop for journalists and local-government information officers in Tacloban – the Eastern Visayas province capital devastated by Typhoon Haiyan in 2013.
The workshop was aimed at "intensifying public awareness and translating [it] into action by improving people's perception of their role in environmental protection," according to a report by the official Philippine Information Agency (PIA).
"The media and information officers play a critical role in raising awareness of communities," CCC Assistant Secretary Joyceline Goco told participants.
The CCC is tasked by the Philippine government to coordinate the mainstreaming of climate change into local and national development planning.
The Tacloban workshop also addressed building the resilience of coastal areas, general rehabilitation and recovery issues, and "understanding [the] climate system and climate change including disaster risk reduction and climate change adaptation in the Philippines," PIA added.
 
Preparedness
Imelda Albano, President of the Philippine Network of Environmental Journalists, and Red Batario, Executive Director of the Center for Community Journalism and Development also took part in the workshop, which included a session of the Climate Centre game, Paying for predictions (P4P), in which players assess the shifting chances of disaster as they decide whether to invest in forecast-based preparedness.  
The P4P session was facilitated by the Philippine Red Cross (PRC) and the Climate Centre.
                                                                          *
Educational games are now a big part of PRC training sessions, writes Ana Mariquina, Project Officer for Disaster Management Services of the Philippine Red Cross.
My own perceptions changed when I first played P4P during the Southeast Asia Master Training for Climate Change held in Phuket, Thailand, last September.
The game puts players in a situation where their decisions can lead to good or bad consequences, and it highlights the importance of forecasts for local decision-makers in disaster-risk management.
I later grabbed the opportunity to facilitate P4P during a contingency planning workshop for community members in Aklan province, in the Philippine Western Visayas region.
Interaction
The game left an impression on participants and facilitators of the value of using all available resources to invest in early-warning systems for better response.
I facilitated P4P again during a training for vulnerability and capacity assessments  last October that was attended by staff and volunteers from seven PRC chapters, then most recently at the CCC Tacloban workshop.
Spreading awareness – the purpose of the Tacloban event – can be a bit dull because people may find it abstract; in our work we sometimes encounter residents who are aware of climate change but do not possess any information on climate change adaptation.
Games can help overcome this, facilitating understanding on the part of the audience through interaction with the facilitators or with each other.
I believe the game reinforces the role of PRC in lobbying and advocacy for inclusive disaster risk reduction and climate change adaptation in local government development programmes.
(Ana Villa R. Mariquina has been working with the PRC for five years, managing projects on disaster risk reduction as well as relief and early recovery, supported by donor National Societies, the European Commission, and the German and Finnish foreign ministries.)
'We will tell the story of the Filipino,' reads a reporter's T-shirt at a 2014 meeting in  Tacloban attended by Kristalina Georgieva, European Commissioner for International Cooperation, Humanitarian Aid and Crisis Response. That story increasingly includes climate impacts and ways to address them, thanks to events like the media workshop in Tacloban last week organized by the Philippine Climate Change Commission.
(Library photo: Alex Wynter/European Commission)