WMO: Thousands of lives saved by better forecasting, early warning and readiness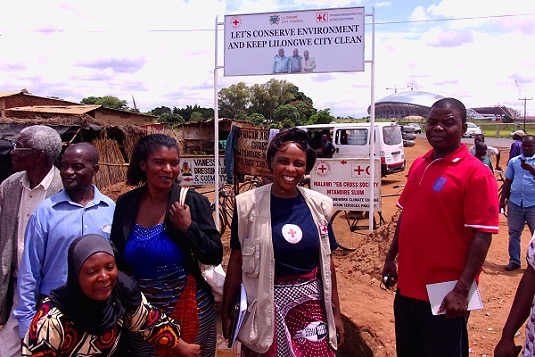 24 March 2015
Thousands of lives have been saved around the world over the past year alone by improved weather forecasting, early-warning systems and disaster readiness, the World Meteorological Organization (WMO) said yesterday.
The WMO – whose 2013 partnership with the IFRC formalized several years of collaboration on disaster risk – was marking World Meteorological Daythat commemorates the 1950 convention that established the organization.
Its theme this year, "Climate knowledge for climate action", is intended to highlight "recent advances in climate science and the need for decisive measures to limit climate change," according to a WMO press release.
Special events around the world yesterday showcased the contribution of national meteorological services to "safety, well-being and sustainable development," it said.
The WMO added that the economic benefits of climate services, such as seasonal outlooks, have been worth "hundreds of millions of [US] dollars".
Climate services
In his own message for World Meteorological Day, UN Secretary-General Ban Ki-moon said strengthening climate resilience would be central to the UN's work in 2015.
He stressed the need for "timely, reliable, accessible and usable information for decision-making and action".
The WMO said yesterday the Global Framework for Climate Services (GFCS) it initiated with other UN partners six years ago would facilitate the use of climate information to reduce disaster risk, secure supplies of food and water, and protect public health.
"The IFRC and the Climate Centre have been closely involved in GFCS and we're now piloting its implementation in a multi-agency collaboration in Malawi (photo) and Tanzania, for example, with a special focus on early warning early action," said Climate Centre Director Maarten van Aalst
"A key GFCS feature for the Red Cross Red Crescent is a focus on using climate information for better humanitarian decision-making, like early warning early action that focuses on the last mile to communities."
'Record ocean heat'
Also speaking on World Meteorological Day, WMO Secretary-General Michel Jarraudsaid: "The climate knowledge that has been built in the last decades is an invaluable resource and a prerequisite for decision-making and for climate action.
"Multiple lines of evidence – from mounting temperatures to shrinking glaciers, from sea-level rise to weather extremes – give us high confidence that the climate is changing and that this is largely due to human activities…"
"The cost of inaction is high and will become even higher if we do not act immediately and resolutely."
WMO has said that "by a very small margin" last year was the hottest year on record. The WMO statement on the status of the climate in 2014, released to coincide with World Meteorological Day, provides details of recent weather extremes climate impacts.
"Record ocean heat, high land-surface temperatures and devastating flooding were some of the defining characteristics of the global climate in 2014," the organization said in a separate press release.
The 2014 statement details national and regional temperatures and precipitation, tropical cyclones, sea level rise and sea ice extent.
It also reproduces an analysis from the UK Met Office of the human influence on climate, which "estimated that human influence has increased the likelihood of the observed record-breaking temperatures in the United Kingdom by a factor of ten."
A Malawi Red Cross community project in the Mtandire district of Lilongwe city – part of the Global Framework for Climate Services there, which focuses on early warning early action. (Photo: WMO via Flickr)