New 15-year global framework recognizes climate change as a driver of disaster risk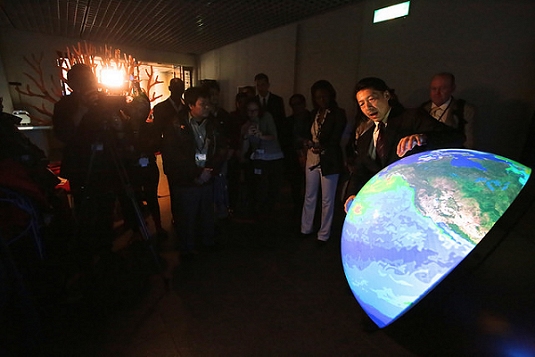 19 March 2015
The new global framework for policy and programming on disaster risk reduction (DRR) "outlines clear targets and priorities for action which will lead to a substantial reduction of disaster risk and losses in lives, livelihoods and health," according Margareta Wahlstrom, UN Secretary General's Special Representative for Disaster Risk Reduction.
She was speaking at the end of the World Conference on Disaster Risk Reduction (WCDRR) in Sendai, Japan, organized by the United Nations Office for Disaster Risk Reduction (UNISDR), which she heads, and attended by more than 40 National Red Cross and Red Crescent Societies.
"Our collective contributions helped to raise the voice of the most vulnerable, ensuring that community resilience was always high on the conference agenda," said Walter Cotte, IFRC Under Secretary General for Programme Services, in Sendai.
The conference was also attended by IFRC President Tadateru Konoe and Secretary General Elhadj As Sy, who on Sunday together announced the One Billion Coalition for Resilience initiative to scale up community action.
30-hour negotiation
Mohammed Mukhier, who heads the IFRC Community Preparedness and Risk Reduction Department, and Climate Centre Director Maarten van Aalst were also in Sendai.
The final outcome document, agreed after 30 hours of continuous negotiation, is seen as a good match with what the IFRC has been consistently advocating, in that it: promotes coherence across systems, sectors and organizations; recognizes that climate change is a driver of disaster risk; and affirms the importance of international cooperation.
Specifically on climate, the new framework says: "Addressing climate change as one of the drivers of disaster risk, while respecting the [UNFCCC mandate], represents an opportunity to reduce disaster risk in a meaningful and coherent manner [through] intergovernmental processes."
Early warning
As part of understanding risk at the international level, it advocates the promotion of "comprehensive surveys on multi-hazard disaster risks and the development of regional disaster risk assessments and maps, including climate change scenarios".
It suggests "climate change scenarios and their impact on disaster risk" be considered as part of ongoing review of planning for disaster preparedness.
At a working session focused on early warning, Gwendolyn Pang, Secretary General of Philippine Red Cross, recalled how many communities did not act on warnings before Typhoon Haiyan because they did not understand the terms used.
"We need local community mobilizers on the ground who can communicate with communities," she said. "People at risk are not just passive recipients of information."
At a session on relocation caused by disasters, Naoki Kokawa from the Japanese Red Cross described the complex process of building consensus on shaping the future among communities after the 2011 earthquake and tsunami.
'Well-being'
Chairing a session on disaster and health, Elhadj As Sy stressed how good health is key to strengthening community resilience.  
"Through our 17 million volunteers," he said, "we can…work hand-in-hand with various public, private and community-based partners to improve people's physical, mental and social well-being."
In other news from the Sendai conference:
·      Princess Margriet of the Netherlands – a member of the IFRC governing board from 2005 to 2013 – said in a speech at the ecosystems sessions that the "unshakeable commitment" of the Red Cross Red Crescent Movement was to "leap that extra hurdle towards preventing risk, rather than just alleviating suffering when it's essentially too late".
·      The UK-supported programme, Building Resilience and Adaptation to Climate Extremes and Disasters, for which the Climate Centre is supporting knowledge management, was launched at a reception where the British international development minister, Desmond Swayne, explained how it will work in the Sahel, East Africa and Asia to help up to 5 million vulnerable people become more resilient to climate extremes.
·      With the Netherlands Partners for Resilience, already one of the biggest international programmes of its kind, entering a second five-year phase, Juriaan Lahr, Head of International Assistance at the Netherlands Red Cross, said: "With climate-related disasters now dominating this agenda, it's imperative governments 'think big' by embracing ambitious risk-management."
The opening of WCDRR last week was marked by the losses inflicted in the Pacific by Cyclone Pam, "a stark reminder that disaster risk management is a matter of life and death," as a UNISDR report put it.
The "visibly moved" President of Vanuatu, Baldwin Lonsdale, told delegates on Saturday that "our hope for prospering into the future has been shattered".
The IFRC allocated more than 130,000 US dollars from its Disaster Relief Emergency Fund to help the Vanuatu Red Cross to respond, and on Monday issued an appeal for nearly $4m.
A delegate at WCDRR using an illuminated globe to share Earth information with other participants. The 15-year global framework for DRR agreed at the conference after 30 hours of negotiations recognizes climate change as a driver of disaster risk. 
(Photo: UNISDR via Flickr)