IFRC humanitarian cash for Albania after 'worst floods since 1971'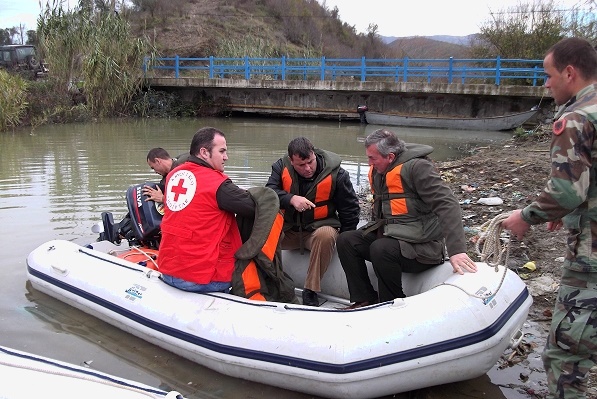 9 February 2015
The IFRC is releasing more than a quarter of a million US dollars in emergency humanitarian cash for Albania's Red Cross Society (ARC) after what are reported to be the worst floods there in nearly half a century.
The money, announced on Friday, will help the ARC conduct a relief operation for 8000 people over the next four months in the worst-affected southern part of the country.
Parts of southern Albania got up to 200 mm of rain in three days – the norm for a whole month at this time of year – and around 850 families had to be evacuated during the course of last week.
The IFRC announcement of a grant from its Disaster Relief Emergency Fund (DREF) said the situation in several districts was "becoming increasingly critical" after almost five days of uninterrupted rain caused the Vjosa, Devoll, Osum and Seman rivers to burst their banks.
Some major highways had been flooded, making travel difficult.
Albania's military, police and special emergency teams were helping people move away from high-risk areas.
'Food for thought' on climate
ARC branches operating in the flooded areas report that families have lost their winter food reserves and livestock.
Evacuees are mostly being sheltered by relatives.
The Albanian Emergency Commission says an estimated 42,000 people have been affected in all areas.
The ARC was distributing immediate relief in the form of food packs, blankets and hygiene kits from disaster-preparedness stocks.
The UK Guardian newspaper – describing the floods as the second-worst on record – quoted Prime Minister Edi Rama, meanwhile, as saying the disaster had been worsened by "soil erosion, deforestation and bad management of rivers".
He told the paper: "What we are experiencing, not only in Albania but across Europe, gives us very considerable food for thought about climate change.
"There have been so many talks about it and so few real measures against it."
Only flooding in 1971 was worse than the current episode, according to the Guardian.
An Albanian Red Cross relief operation underway in the flooded city of Shkoder in 2010. One of Europe's most vulnerable countries, Albania has been regularly hit by disastrous flooding over the past decade and half, possibly aggravated by climate change, deforestation and development. (Library photo: ARC via IFRC)