'Long-anticipated' El Niño officially here, but expected to stay weak without major influence on weather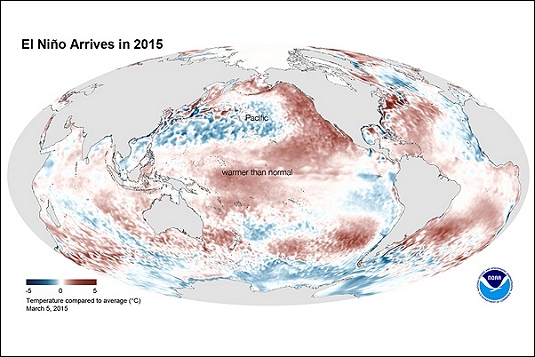 9 March 2015
US scientists at the National Oceanic and Atmospheric Administration (NOAA) say the technical threshold for "long-anticipated" El Niño conditions has been crossed, but they add that significant impacts on global weather patterns are not anticipated.   
Forecasters at NOAA's Climate Prediction Center (CPC) last Thursday updated their regular monthly outlook with an "El Niño Advisory" – declaring the official arrival of sufficiently warmer-than-average sea surface temperatures in the equatorial Pacific Ocean. 
"Based on the persistent observations of above-average sea surface temperatures [in the] Pacific Ocean and consistent pattern of sea-level pressure, we can now say that El Niño is here," said Mike Halpert, CPC Deputy Director.
He added: "Many climate-prediction models show this weak El Niño continuing into summer."
Threshold
Earlier last week, the Australian Bureau of Meteorology's ENSO* Tracker was upgraded to "El Niño WATCH", due to "a combination of warmer-than-average temperatures in the tropical Pacific Ocean" – according to its website – "and models showing that further warming is likely in coming months."
The next Australian update on El Niño is expected on 17 March.
"There has been very little change between what we have had the last few months, what we have now, and what we expect for the next month or two," said Tony Barnston, Chief Forecaster at the International Research Institute for Climate and Society (IRI) at New York's Columbia University, an IFRC partner organization.
"In the case of this El Niño, we've been near the threshold for quite a while. The bigger issue concerns strengthening of the phenomenon around June or July."
Helpdesk
Climate Centre Director Maarten van Aalst said Red Cross Red Crescent disaster managers should continue to monitor IFRC-IRI forecasts for anything out of the ordinary.
"Scientists are not forecasting major changes in weather extremes around the world from this El Niño," he said.
Disaster managers can as usual email questions direct to the IFRC helpdesk at ifrc@iri.columbia.edu.
Some impacts "often associated with El Niño" might be seen in the northern- hemisphere, according to NOAA, such as wetter-than-usual conditions along the US coast in the Gulf of Mexico.
The last El Niño in 2009–10 was a moderate to strong event, while the last very strong El Nino was 1997–98.
*The El Niño Southern Oscillation (ENSO) is the effect of unusually warm or cold Pacific sea-surface temperatures that cause climatic change in the tropics and sub-tropics.
A graphic showing average sea surface temperatures for February as measured by NOAA satellites. It was released by US scientists last week, who say the technical threshold for "long-anticipated" El Niño conditions has now been crossed.
(Image: NOAA via noaanews.noaa.gov)