A high-tech future for humanitarians one step closer after Red Cross Red Crescent summit in NL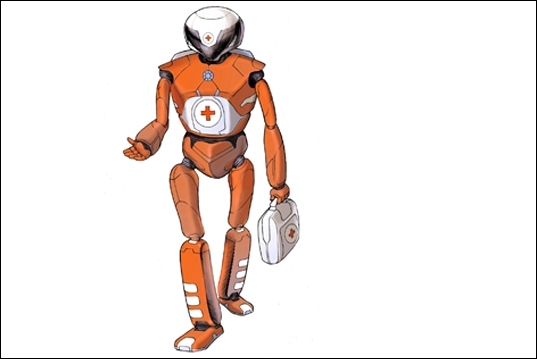 9 January 2015
Clusters of unmanned aerial vehicles that could relay mobile-phone signals using a "mesh network" to restore communications after disaster; wearable technology that enables first-responders to process humanitarian messages and stay in touch with their colleagues; ATMs that double as biometric scanners to identify people who have lost documents in a disaster; solar-powered, digital fire-sensors to protect mushrooming informal settlements around the world.
These are glimpses of a high-tech future for humanitarian work that are not as far off – or as improbable – as you might think.
That future came a step closer this week after the second Red Cross Red Crescent global summit on emerging technologies at Nyenrode Business University outside Amsterdam, where delegates explored the most promising technical options identified at earlier regional consultations worldwide.
The summit – part of the "Global Dialogue on Emerging Technology for Emerging Needs" – was hosted by the Netherlands and American Red Cross and the IFRC.  
The Global Dialogue is a two-year initiative to inform the design, use and cost of innovative technology solutions and evaluate their impact on urban resilience.
'Transformative power'
The first summit was held last June and co-hosted with the Stanford Center on Philanthropy and Civil Society in Palo Alto, California; the Global Technology Project Director at the American Red Cross is Abi Weaver.
With the Red Cross Red Crescent committed to making a billion households safer by 2025, emerging technologies could facilitate community-level knowledge and health, economic opportunities, access to infrastructure and services, and management of natural resources, according to an introductory report on the Global Dialogue.
These technologies have the "transformative power to strengthen the resilience of urban communities", it adds.
As well as the four technologies mentioned above, which will now be prioritized for field trials, the Global Dialogue has looked at how:
Mobile devices with augmented reality software might be used to flag domestic sources of food, water, first aid and other services, especially helpful if users are unfamiliar with an area. 
Robots could provide some medical services, especially in contagious environments, delivering medicines, basic necessities and video communications.
In evacuations, smart cars could help drivers schedule departures to coincide with lighter traffic, navigate unfamiliar areas, car-pool with others, and warn of medical emergencies en route.
3-D printers to help disaster-affected communities adapt traditional "non-food" relief goods.
"The risk of disasters is rising rapidly, with climate change intensifying extreme-weather events and urbanization exposing more and more people to their impacts," said Gijs de Vries, Secretary General of the Netherlands Red Cross Society and Climate Centre board member, who welcomed delegates to the summit last week.
"Haphazard urban development is also driving up risk in seismic zones.
"In the last 20 years alone, 1.3 million people have been killed in disasters while economic losses are estimated at up to 3 trillion US dollars.
'New opportunities'
De Vries added: "The challenges of tomorrow – some of them unimaginable now – will require more imaginative solutions, and the innovations discussed here will extend an already-proud tradition in the Red Cross Red Crescent of using technology in disaster response.
"The Global Dialogue will leverage past technical successes to explore entirely new opportunities that could disrupt the status quo and transform society."
Movement components involved in the Global Dialogue include the IFRC and ICRC, the National Societies of Argentina, Ireland, Kenya, Republic of Korea, the Netherlands, the UK and the US, as well as the Climate Centre and the Global Disaster Preparedness Center, based at the American Red Cross and also an IFRC reference centre.
Private-sector and multilateral support for the initiative comes from Accenture, the Buenos Aires Institute of Technology, GSMA, IDEO, JPMorgan Chase, Kurante, Motorola Solutions Foundation, Nyenrode Business University, UN OCHA, the Stanford Center for Philanthropy and Civil Society, Texas A&M University, Twitter, the World Bank and the World Economic Forum.
Pilot projects
To date, the Red Cross Red Crescent discussion on emerging technologies has included survivors of disaster, emergency managers and first responders, planners, technologists, businesspeople, policy analysts, journalists, government officials, academics, humanitarian organizations, development institutions and health experts.
The initiative will shortly begin transitioning from dialogue to engagement with communities in non-conflict settings to design pilots of the four concepts prioritized through the dialogue.
The National Societies involved will collect evidence to inform future investments and advocate for appropriate policies.
You can follow the initiative at tech4resilience.blogspot.com and #tech4resilience.
This week's summit on emerging technologies will help define a vision for the humanitarian use of new technologies to meet emerging needs caused by increased disaster risk, urbanization and other global shifts. Hosted in collaboration with Nyenrode Business University, it was organized by the IFRC and the Netherlands and American Red Cross. (Image: NBU)