Red Cross community work in Pacific is 'solid base' for planning climate adaptation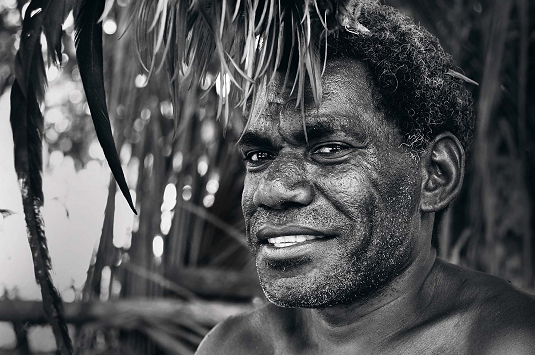 6 November 2014
Community-based approaches are increasingly emphasized as the most viable for planning and implementing climate adaptation in developing countries, but it's not yet clear how best to engage communities in assessing risks and responses that build on cultural norms and integrate wider development concerns.
Now some new research has addressed this gap by examining community-level planning for adaptation in rural Vanuatu.
A comparative analysis explored local perceptions of risk and capacity, and how they translate into adaptation planning.
The new research, which was done in collaboration with the Vanuatu Red Cross Society (VRCS) and Act for Peace, is part of a PhD thesis by Ainka Granderson of the Department of Resource Management and Geographyat the University of Melbourne.
It was based on eight months of field research in 2013 and the report is now available through the Climate Centre.
Coastal erosion
The analysis covered two adaptation projects: the Yumi Stap Redi Long Climate Change project on Mota Lava island, Torba province, implemented by the Vanuatu, Australian and French Red Cross, in collaboration with the Climate Centre, and the Pacific Community Climate Change and Risk Reduction Project in Tongoa island, Shefa province, run by Act for Peace and the Vanuatu Christian Council.
Both projects are supported by the Australian government.
The report says misconceptions about risks from climate change in Vanuatu include the role of sea levels in coastal erosion and inundation.
Sea-level rise can exacerbate coastal erosion, but is estimated to be occurring at a rate of 6mm a year, according to climate scientists.
Other factors such as geological subsidence, sand mining and deforestation, are currently driving coastal erosion. 
Shifting seasons
Contrasting perspectives on capacity to manage climate risks also exist, according to the report.
Many villagers and a number of development practitioners highlighted self-reliance and traditional knowledge in coping with disasters; others pointed to poor leadership, lack of education and services, and land disputes as barriers to local action.
Through Yumi Stap Redi Long Climate Change, the VRCS is carrying out reforestation to tackle beach erosion and reduce risks from rising seas and storm surges. 
They have also created posters for educating communities about the various factors that both contribute to and prevent coastal erosion.
The report found that Red Cross work provides "a solid base for future planning and decision-making for climate change adaptation and disaster risk reduction".
Communication initiatives like a new Handbook of Weather, Climate and Climate Change Facts and Figures for Vanuatu and a guidance note on Communicating Climate Change for Risk Reduction in Pacific Communities have also proved useful.
Among the report's other key findings are:
Major climate risks highlighted by rural communities were coastal erosion, declining crop productivity, shifting harvest seasons, and variable or extreme rainfall.
Some community members linked what they observed with climate change – especially coastal erosion – but did not fully understand the processes driving it.
Age, gender, livelihoods and education all influenced how rural communities perceived climate risks and adaptive capacity; younger people were much more concerned about coastal erosion, for example.
Constraints on community engagement included short project time frames, staff turnover, the cost of transport and communication with outer islands, issues of gender balance, and a proliferation of community-level committees.
Community buy-in
The report recommends steps to improve adaptation and ensure fair, culturally appropriate outcomes for rural communities.
"Further climate communication is necessary to address misperceptions about risks from climate change", it argues, and this could "highlight and strengthen linkages between western science and local knowledge and practices."
A consultative approach in planning, implementing and monitoring adaptation projects to ensure community buy-in and engagement was also necessary, as well as efforts to ensure gender balance and sensitivity in decision-making at the community level.
A Vanuatu man on Wala Island last December. New research on the Pacific island nation provides insights into how best to engage local communities in assessing climate risks, capacities and responses that build on cultural norms.
(Photo: Courtesy Alma Arte Photography via Flickr)