Climate change impacts already felt 'on all continents and across the oceans', says IPCC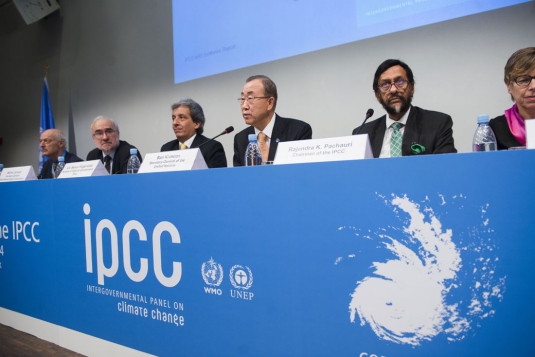 2 November 2014
By the Climate Centre
The Intergovernmental Panel on Climate Change (IPCC) today published the full synthesis of its Fifth Assessment Report ("AR5"), providing policy-makers with a comprehensive, one-stop-shop appraisal of the risks of climate change facing humanity.
Human influence on the climate system is clear and growing, it says, with impacts observed on all continents.
If left unchecked, this will "increase the likelihood of severe, pervasive and irreversible impacts for people and ecosystems," according to an IPCC media release.
But options are available to adapt, and implementing "stringent" mitigation can keep impacts manageable, it adds.
'Will to change'
"We have the means to limit climate change," said Rajendra Pachauri, IPCC Chair. "The solutions are many and allow for continued economic and human development.
"All we need is the will to change, which we trust will be motivated by knowledge and an understanding of the science of climate change."
The Synthesis Report and its associated Summary for Policymakers were released after a week-long meeting in Copenhagen – the IPCC's 40th formal session.
It does not contain new research but provides "fresh insights" by drawing together the three IPCC Working Group reports released over the past year that make up AR5, as well as two special reports from 2011, including "SREX".
"Our assessment finds that the atmosphere and oceans have warmed, the amount of snow and ice has diminished, sea level has risen and the concentration of carbon dioxide has increased to a level unprecedented in at least the last 800,000 years," said Thomas Stocker, Co-Chair of Working Group I, which assesses the science behind climate change.
Storm surges
The report finds "with greater certainty than in previous assessments", according to the IPCC, that emissions of greenhouse gases and other man-made drivers have been the dominant cause of warming since the mid-20th century.
It adds: "The impacts of climate change have already been felt in recent decades on all continents and across the oceans."
"This Synthesis Report is again highlighting that the choices we make right now are vital," said Maarten van Aalst, the Climate Centre's director and a lead author for the IPCC's Working Group II report on impacts and adaptation – generally regarded as of most direct relevance to the humanitarian community.
"It confirms we have no choice but to adapt to climate change: for the next few decades, cutting emissions will not stop the climate changing, prevent uncertainties about rainfall and weather extremes heightening, or risks rising.
"In addition, we'll need substantial reductions in emissions to avoid serious consequences in the longer term: what we do today will determine whether our children face more dramatic impacts still."
The World Meteorological Organization said last year that higher sea levels were making coastal communities like the ones in the Philippines devastated by Typhoon Haiyan much more vulnerable to storm surges.
Vulnerable communities
The AR5 Synthesis says five main "reasons for concern" continue to provide a framework for summarizing key risks and illustrate the implications of warming for people, economies and ecosystems.
The second of these focuses on extreme-weather events and says the scientific community now has "high confidence" – the second-highest of five levels of confidence in IPCC terminology – that risks related to climate change from extreme events such as heatwaves, heavy precipitation and coastal flooding, are "already moderate".
The Synthesis argues that many risks are particular challenges for least developed countries and vulnerable communities, given their limited ability to cope.
People who are "socially, economically, culturally, politically, institutionally, or otherwise marginalized are especially vulnerable to climate change," according to the IPCC.
IFRC President Tadateru Konoe wrote in March that the WG II report had "sounded a clarion call" to the humanitarian community worldwide.
The full AR5, which draws on the work of over 1,000 contributing authors and some 2000 expert reviewers, is the most comprehensive assessment of climate change ever undertaken; the writing teams comprised more than 800 scientists from more than 80 countries.
Press conference in Copenhagen launching the AR5 Synthesis Report, including (centre) UN Secretary-General Ban Ki-moon and IPCC Chairman Rajendra Pachauri. (UN Photo/Amanda Voisard)