IFRC announces 'information to action' initiative at UN Climate Summit in New York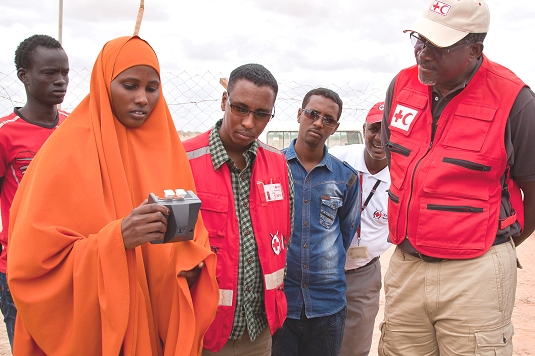 23 September 2014
The International Federation of Red Cross and Red Crescent Societies (IFRC) today announced a "Climate Information to Climate Action" initiative combining its own efforts with those of government and multilateral partners "to strengthen the use of climate information at all levels".
The announcement was made by the IFRC Secretary General, Elhadj As Sy, at the UN Climate Summit in New York.
Addressing a platform on community resilience, Mr Sy said: "While climate change affects us all, it is the most vulnerable countries and the most vulnerable within countries who suffer the most.
"It is the smallholder farmer who goes hungry due to scant and irregular rains, and the urban poor whose informal settlements are levelled after disasters of increasing frequency and intensity.
"We must prioritize building their resilience before it is too late."
'Public good'
Integrating relevant climate information into development planning and practice was among the most transformational ways to do this; despite scientific advances, information "too often" did not find its way into decision-making.
Mr Sy said the IFRC welcomed the new international commitment for climate information to become a "public good" for use in agriculture and food security, water, health, and disaster risk reduction by 2017, and across all climate-sensitive sectors by 2021, in line with the Global Framework for Climate Services.
It would include improved data not just on climate but also on vulnerability, exposure, and population.
"By the end of 2015, the IFRC will support high-risk communities in at least 40 countries to use climate information to enhance their resilience," the IFRC Secretary General added.
"We also commit within the same time frame to scale up public awareness and education on changing climate risks by mobilizing our 17 million volunteers and 189 National Societies, and systematically communicating to the general public about the role of climate change in major disasters."
Influential figures
The IFRC was also quadrupling the number of cities where it implements urban risk reduction programmes by the end of 2015.
UN Secretary-General Ban Ki-moon is hosting the Climate Summit "to engage leaders and advance climate action and ambition," according to the event website.
Influential figures from business and finance, civil society and local communities are also attending.
"It's good to see so many world leaders and CEOs committed to an ambitious climate agenda, and the global public engagement such as in the march here on Sunday," said Dr Maarten van Aalst, Director of the Red Cross Red Crescent Climate Centre, who is also in New York for the Climate Summit.
"Now we need to turn those words into action on the ground, as well as a strong global climate agreement at the COP 21 UN climate talks in Paris next year."
On a visit to Dadaab, Kenya earlier this month, IFRC Secretary General Elhadj As Sy looks on as community members trained by the local Red Cross test water supplies. Today at the Climate Summit in New York, he announced a major new "information to action" initiative to strengthen the use of climate information at all levels.
(Photo: Benoit Matsha-Carpentier/IFRC)