First-ever global conference on climate and health ends at WHO in Geneva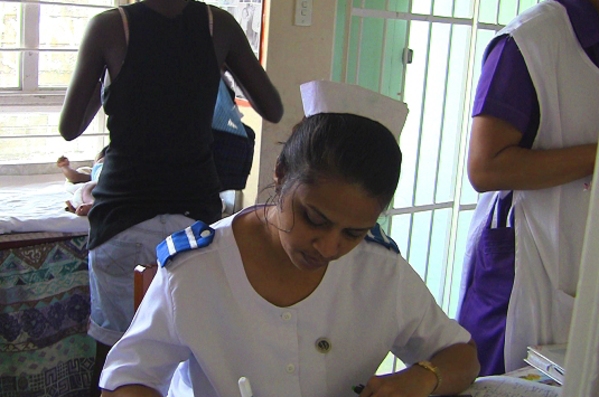 3 September 2014
The first-ever global conference on climate and health ended last Friday at the Geneva headquarters of the World Health Organization (WHO).
It brought together more than 300 government ministers, heads of UN agencies, community and civil society leaders, and technical experts on health, climate and development.
"The evidence is overwhelming: climate change endangers human health," said the WHO's Director-General, Dr Margaret Chan. "Solutions exist and we need to act decisively to change this trajectory."
Climate change is already causing tens of thousands of deaths every year from shifting patterns of disease, extreme weather like heatwaves and floods, degradation of water supplies and sanitation, and impacts on agriculture, according to the WHO citing its most recent data.
It says the health community is working hard to improve surveillance and control of infectious diseases such as cholera, malaria and dengue fever that are sensitive to weather and climate.
"Reducing climate change can yield substantial and immediate health benefits," added Dr Maria Neira, who heads WHO's public health department.
"The most powerful example is air pollution, which in 2012 was responsible for 7 million deaths – one in eight of all deaths worldwide. There is now solid evidence that mitigating climate change can greatly reduce this toll."
Public awareness
IFRC Secretary General Elhadj As Sy said at a panel discussion on "linking international climate, sustainable development and health policy" that climate change creates and exacerbates challenges for the humanitarian community.
He stressed that the burden of actions taken in response "should not fall on communities".
The IFRC argues that governments and non-governmental actors should make every effort to take health risks into consideration when planning climate change adaptation and mitigation.
The health sector should work with meteorological services and providers of climate information to make better use of early-warning information on floods, droughts, storms, heatwaves and seasonal rainfall to improve decision-making for preparedness.
The IFRC's Health Risk Management in a Changing Climate project, supported by the Climate Centre, for example, explored ways of integrating climate with health programming in Indonesia, Kenya, Tanzania and Vietnam.  
In East Africa, for example, where once-consistent rainfall patterns are shifting, the project introduced early-warning systems into targeted regions of Kenya and Tanzania, allowing community-level interventions for malaria and diarrhoeal disease through better use of climate information.
The IFRC is also scaling up its efforts for universal health coverage by supporting the integration of volunteers and community health workers into the public health system.
The focus is to increase public awareness and education about climate change, as reflected in new e-learning facilities, training modules, animations, games, and support for volunteers in the smallest communities in the most vulnerable places.
'Impacts'
A media release from WHO highlighted key facts on climate and health:
*Climate change affects the "social and environmental determinants of health" – clean air, drinking water, food and shelter.
*Between 2030 and 2050, it is expected to cause some 250,000 additional deaths a  year from malnutrition, malaria, diarrhoea and heat stress.
*The costs to health budgets is estimated at up to US$ 4 billion a year by 2030.
*Developing countries will be the least able to cope.
*Reducing emissions of greenhouse gases through better transport, food and energy choices can improve health, particularly through reduced air pollution.
IFRC President Tadateru Konoe – in Samoa for this week's Conference of Small Islands Developing States – says in an op-ed piece that the IFRC is "committed to…forging wide-ranging partnerships, particularly with governments and local authorities, to strengthen community resilience and preparedness, to help avert or reduce the worst humanitarian impacts of climate change on vulnerable people in many risk‐prone countries."
Many of these issues will be discussed at the Climate Summit in New York on 23rd of this month, where the IFRC will also be represented, when UN Secretary General Ban Ki-Moon has invited prominent global figures from government, finance, business, and civil society to "galvanize and catalyse climate action".
Staff from the WHO Fiji office and the United National Development Programme in 2012 visit a health centre providing data on infectious diseases sensitive to climate, like dengue, typhoid, leptospirosis and diarrhoea. (Library photo: Global Environment Facility)