New global campaign on 'vital' weather and climate services for small island states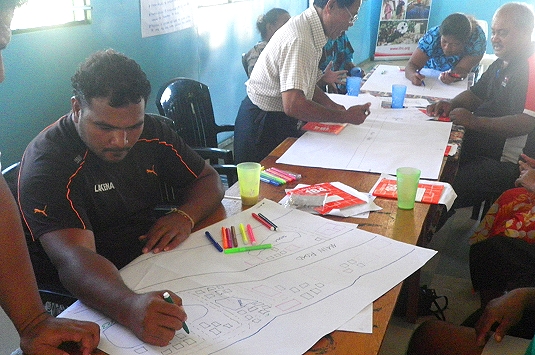 8 August 2014
A global campaign to improve weather and climate services for all small island developing states was launched this week with the support of the World Meteorological Organisation (WMO), the Secretariat of the Pacific Regional Environment Programme (SPREP), and Digicel Pacific.
Small Islands, Weather Together aims to show how the world's small island developing states can work together to improve their vital weather and climate services. 
In the Pacific region, extreme weather already accounts for 76 per cent of all disasters, half of them directly related to cyclones.
The increase in extreme-weather events is also hampering the sustainable development of many small island developing states; for example, when Cyclone Evan hit Samoa in December 2012 it caused the loss of one third of the country's annual economic output.
WMO Secretary-General Michel Jarraud stressed that small island developing states need greater investment to strengthen weather and climate services, and ensure that efforts towards sustainable development are not wasted.
'Early preparedness'
"If we don't invest in stronger weather and climate services for small island developing states, then extreme-weather events could simply wipe out years of development effort if they are not well prepared," he said.
"It is much more cost-effective to invest in early preparedness and prevention than to focus only on rehabilitation and post-disaster action."
Climate change is increasing the frequency and intensity of weather and climate events in many small island developing states. But many of their meteorological services still lack the basic infrastructure, technology and expertise to protect vulnerable island communities.
Mr Jarraud said there is an urgent need to enhance the quality of early warnings for extreme weather…so that they can be understood and used by the island communities and governments.
First-hand feedback
In the Pacific islands, SPREP and other partners are working to improve communication of this type of information in partnership with national meteorological services, the media and communities.
"SPREP recognises that weather forecasts and warnings such as those given during tropical cyclones do not have a shelf life – they must be disseminated rapidly to the public or else they are useless," said SPREP Acting Director General Kosi Latu. 
The Small Islands, Weather Together campaign was launched to coincide with the lead-up to the UN's Third International Conference on Small Island Developing States in Apia, Samoa, early next month.
                                                          *
Several related partnerships are being developed between national weather services and Pacific Red Cross societies to work with communities to develop early-warning systems and improve dialogue between meteorologists and disaster managers, writes the Climate Centre's Senior Climate Adviser for the Pacific, Rebecca McNaught. 
The Finnish-Pacific Project (FINPAC), for example, is a four-year IFRC regional partnership funded by Finland and coordinated through SPREP with a range of agencies, including the University of the South Pacific which is supported by 12 island nations.  
It aims to improve weather and climate information for local fishers, farmers and villagers whose livelihoods are highly weather-dependent.
The story behind two short animation films produced in 2013 is, meanwhile, told in a new working paper by the Climate Centre and other authors; made by an alliance of agencies in the Pacific, the animations link climate science with decision-making and disaster preparedness.
 
The recent FINPAC workshop on climate and planning for disaster resilience in the Tuvalu capital, Funafuti, provided a forum for face-to-face exchange between meteorologists, disaster managers and communities. It's hoped this workshop and others planned for the near future in the Pacific will help scientists use first-hand community feedback to make forecast products more accessible. 
(Photo: IFRC Pacific region)