'Gender and climate change': New Australian Red Cross briefing paper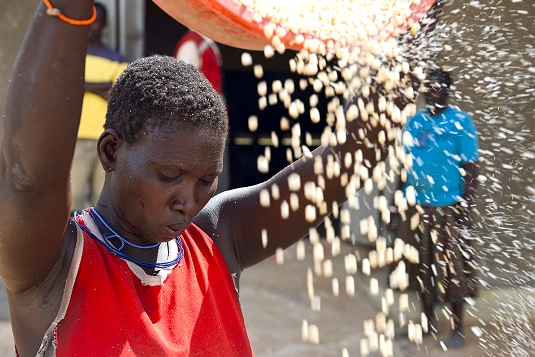 30 July 2014
The latest addition last week to the Australian Red Cross (ARC) series of online gender briefing papers covers how gender can shape vulnerability to climate change. 
The ARC briefings are intended to be used during workshops, as information sheets for Red Cross Red Crescent staff and volunteers, and for advocacy by National Societies.
Gender and Climate Change outlines how climate change impacts on men and women differently, and details ways in which gender roles can strengthen the capacity of both to adapt to climate-related risks.
"In their roles as food producers and providers, as guardians of health and as caregivers, climate-related hazards such as drought and erratic rainfall," it says, for example, "can further burden women."
'Equal participation'
For men and boys, "as farming and fishing become more difficult due to climate change in some places, men may have to move [to] cities to find work."
But when "equipped with the proper resources, women have the power to help their families and entire communities prepare for disasters and the negative impacts of climate change."
Among IFRC resources cited in the briefing are Gender perspectives – A collection of case studies for training purposes (2003), and the Asia-Pacific zone office's Gender-Sensitive Approaches for Disaster Management (2010).
The IFRC's goal is "to ensure that all Red Cross and Red Crescent programmes benefit men and women equally, according to their different needs and with the input and equal participation of men and women at all levels," according to its Federation-wide gender policy.
Changing risks
The ARC briefing note was co-produced by the Climate Centre and includes technical input from Climate Centre specialists and the 2007 Red Cross Red Crescent Climate Guide.
"This is one of the best resources on climate and gender we have in the Red Cross Red Crescent Movement," said Climate Centre Director Maarten van Aalst, welcoming the new briefing.
"It should be of great use and interest to National Societies worldwide."
DVDs – including one aimed at facilitators – are available on the Climate Centre's Gender and climate game, in which players, as men or women, take on the role of subsistence farmers facing changing risks. 
Other topics covered in the ARC briefing paper series include gender-based violence in emergencies, disaster management, shelter, HIV, and water and sanitation.
A woman in north-east Uganda uses the breeze to separate grain from chaff near the town of Kotido in the Karamoja region. Traditional farming methods are used in a part of the country where food security is an issue – especially during the dry season. But a Uganda Red Cross programme is helping people adapt and maximize crop yields. This image features on the cover of the ARC's Gender and Climate Change briefing paper.
(Photo: Victor Lacken/IFRC)