Factoring climate and urban risk into assessment: new IFRC guidance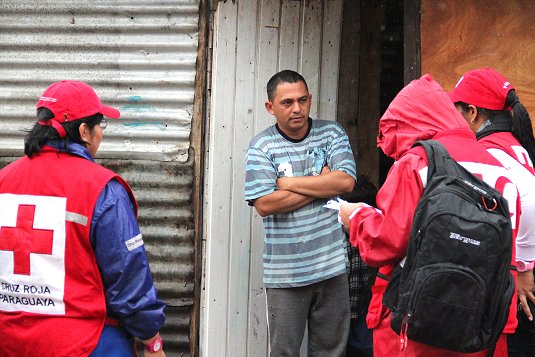 22 July 2014
The IFRC yesterday announced the release of its new supplementary guidance, Integrating Climate Change and Urban Risks into the Vulnerability and Capacity Assessment, developed by the Community Preparedness and Risk Reduction Department (CPDRR) after an extensive global consultation.
The booklet also includes input from National Societies worldwide, IFRC zone offices and the Climate Centre and other reference centres.
It was made possible through support from the Finnish and Norwegian Red Cross.
The IFRC's vulnerability and capacity assessment (VCA) is a "participatory investigation designed to assess, analyse and address major risks affecting communities in a timely manner," writes Secretary General Bekele Geleta in a foreword.
But "extreme climate variability" and "rapid, unplanned urbanization" were magnifying risks for the most vulnerable people.
Risk patterns
The booklet incorporates "new knowledge and guidance on how to adjust the VCA to better address climate change, and how it can support the reduction of vulnerability in towns and cities," says Mr Geleta.
The VCA has been a prominent methodology used by the IFRC and National Societies since the 1990s.
The international consultation was undertaken in recognition of changing risk patterns, and took into account increased institutional use of assessment tools.
The new guidance supplements the IFRC's existing publications on VCA methodology: What is VCA?, How to do a VCA?, the VCA training guide and the VCA toolbox, published from 2006–8.
On climate, the new guidance says a key finding of the review was that "a well-managed VCA will detect gradual changes…having an impact on people's livelihoods, access to water, shelter, food security and health."
It adds: "Local communities will require support to develop resilience to a possible wider range of negative impacts of climate change…"
'Safety and resilience'
"The IFRC needs to adapt quickly to trends if it is to continue to fulfil its mission," adds Mr Geleta.
The new guidance, he says, will "help National Societies and their secretariat to contribute to the safety and resilience of communities all over the world, saving and improving the lives of the vulnerable people we all serve."
Interested National Societies should contact IFRC Senior Officer Marjorie Soto Franco for more details.
Among its own complementary material on climate and the VCA, the Climate Centre published a guidance note in 2012 and last year Yumi stap redi long climate change – a study of the Australian government-funded programme to integrate climate with VCA in Vanuatu.
A Paraguayan Red Cross team conduct an assessment in their capital, Asuncion, last month after serious floods affected tens of thousands of families. 
(Photo: Marcelo Bater/Paraguay Red Cross)