Participatory games summer school at the Universita della Svizzera italiana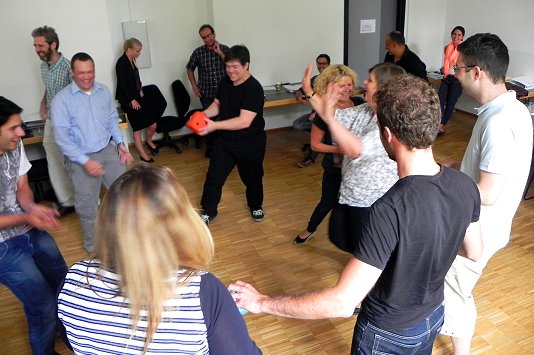 11 July 2014
Last month's Humanitarian Summer School on games for development and humanitarian work was the first of its kind at the Universita della Svizzera italiana in Lugano, Switzerland.
This workshop covered the fundamentals of how practitioners can harness the power of serious gameplay to support humanitarian and development initiatives.
The 16 participants came from all over the world and a wide range of backgrounds – including both humanitarian workers and postgraduate students focusing on humanitarian issues.
Participants learned about the basics of games as dynamic models that can promote learning and dialogue.
Theoretical insights introduced them to the latest research on the interconnections between games and humanitarian assistance, embracing their important role in civic life.
From the first day, participants were encouraged to participate in increasingly complex play; they studied a range of climate games including Paying for predictions.
The sessions also demonstrated the links between first-hand experience in serious gameplay, meaningful engagement and deeper learning.
'Emotional roller coaster'
Players saw how, like real-world programmes and projects, games involve decisions with consequences, allowing people and organizations to "inhabit" the complexity of risky decisions, testing them in plausible scenarios in a way that is both serious and fun.
Some participants spoke about "an emotional roller coaster" in learning about changing weather patterns and the value of accurate forecast information.
One group investigated the complications of post-disaster coordination among humanitarian organizations.
The advantage of bringing together people from different backgrounds in this game design session became apparent as a "playable prototype" was shared on the third day.
Participants at last month's Humanitarian Summer School on games for development and humanitarian work at the Universita della Svizzera italiana, the first of its kind there, came from all over the world. Some spoke of "an emotional roller coaster" in learning about changing weather patterns and the value of accurate forecast information. (Photo: Ellen Schiffman/USI)