New German support for 'humanitarian challenges of climate change' includes forecast-based funding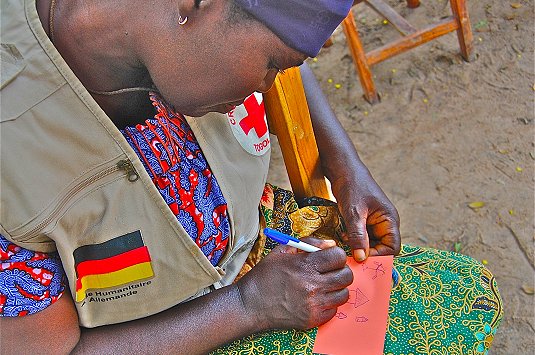 10 July 2014
Germany – in a bid to improve understanding between humanitarians and climate scientists – has announced new support for a "platform for dialogue concerned with humanitarian uses of climatological research."
The platform is to be launched later this year, convened by the Climate Services Partnership – an informal network that groups scientists and users of climate information.
It will bring together weather and climate experts – the World Meteorological Organization, for example, and national weather services and researchers – and humanitarians from the UN, Red Cross Red Crescent, and civil society.
The aim, according to a statement recently made available by the Federal Foreign Office in Berlin, is to "facilitate more effective use of scientific information about climate change…and extreme-weather events in the context of humanitarian assistance."
Rising risks
The statement adds: "Part of this will be to help climate scientists understand what kind of information is needed for humanitarian work.
"At the other end, the intention is to enable humanitarian players to translate that information (including the levels of uncertainty that exist) into humanitarian decisions."
The German government is also providing valuable additional support to the World Food Programme, German Red Cross (GRC), Climate Centre and IFRC forecast-based funding pilots being run in several high-risk countries, together with National Societies.
The Foreign Office will be the first donor to "not only guarantee classic project funding for immediate and ongoing emergency assistance [but also] responding to risks rising over the short and medium term" on the basis of scientific forecasts.
"With their support, especially for forecast-based financing for early action ahead of disasters, the German government is leading the way in the humanitarian sector," said Climate Centre Director Maarten van Aalst, speaking at last month's 34th Forum on Global Issues at the German Foreign Office, held in collaboration with the GRC, where the new action plan was detailed.
Priorities
Germany will help its partners in high-risk countries in Asia, particularly, integrate forecast-based funding instruments into their own systems for managing disaster risk.
"In view of their already vast experience, the Federal Foreign Office will provide concrete support to Deutsche Welthungerhilfe and the German Red Cross as they collate their climate-risk analysis activities in selected high-risk countries [focusing] on Asia," says the statement.
"The studies are to be coordinated in the pilot countries with [UN] OCHA and serve as baselines for all other projects in those countries which receive German humanitarian aid funding and are concerned with adapting to climate change."
They will identify future threats of extreme weather caused by climate change, threatened population groups, the factors which make them vulnerable, and other potential risks inherent in climate change.
Ways of reducing risks and vulnerability will be drawn up and priorities set among, for example, disaster preparedness, basic healthcare, water and sanitation and food.
'Paradigm shift'
The German Foreign Office is also going to expand its assistance to the Nansen Initiative – the international consultation launched in 2012 to help address the needs of people driven across international borders by natural hazards and climate impacts. 
Germany, it says, wants a "paradigm shift" in favour of improved humanitarian preparedness at next year's UN World Conference on Disaster Risk Reduction in Japan and the first-ever World Humanitarian Summit in Istanbul in 2016.
The Federal Foreign Office "will also emphasize the humanitarian dimension of climate change and adaptation measures rooted in humanitarian concerns as part of an international agenda".
During the June Berlin forum, entitled Climate change – a challenge for humanitarian assistance, experts from politics, the UN, aid organizations, academia and the private sector discussed the consequences of extreme-weather events for humanitarian assistance, as well as potential solutions and strategies.
The Togolese Red Cross (TRC) is part of a groundbreaking effort linking early warning to early financing, often a bottleneck in enabling humanitarian action ahead of disasters. The initiative is part of a project first designed in 2012 for the Togo and Uganda Red Cross and funded by the German Federal Ministry for Economic Cooperation and Development through the German Red Cross, with technical assistance from the Climate Centre. This approach is now promised further assistance in a German Foreign Office action plan to address the humanitarian consequences of climate impacts. (Photo: Janot Mendler de Suarez/Climate Centre)