WMO: 'Prepare for El Nino'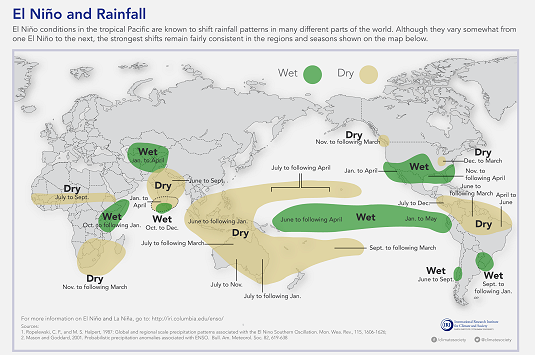 1 July 2014
Many governments are now preparing for an El Niño – associated with regional-scale drought and floods – based on advice from national meteorological and hydrological services, according to the World Meteorological Organization (WMO), underlining concern in the latest Red Cross Red Crescent seasonal forecast.
The tropical Pacific has warmed to "weak El Niño thresholds but atmospheric conditions…have remained neutral," said the regular WMO Update last week.
This indicates that El Niño, which is dependent on interaction between the oceans and the atmosphere, has not yet become fully established.
But atmospheric patterns typical of a fully developed El Niño "are still likely", according to the Update, which is based on consensus among experts around the world, assessed by the WMO.
Atmospheric response
"Our understanding of El Niño and La Niña has increased dramatically in recent years," said the organization's secretary-seneral, Michel Jarraud.
Advance warning gave governments "time to make contingency plans for the impact of this year's expected El Niño on the agriculture, water management, health and other climate-sensitive sectors.
"We remain vulnerable to this force of nature but we can protect ourselves by being better prepared."
In its most recent seasonal forecast covering El Niño/Southern Oscillation (ENSO) conditions, the New York-based International Research Institute for Climate and Society (IRI) – an IFRC partner organization – predicted a 60 per cent chance of El Niño developing in June–August, rising to 75–80 per cent by the middle of the northern-hemisphere autumn.
Like WMO, IRI said these probabilities had not increased recently because of a lack of atmospheric response to the warmer ocean.
But IRI's Chief IRI Forecaster, Tony Barnston, said he expected a stronger atmospheric response in one to three months.
"Many El Niño events develop this way," he said, "where the atmosphere takes longer than the ocean to play ball." 
Forecasts
The last El Niño was in 2009–10. "Most models are [this year] predicting a moderate El Niño, with a slightly greater chance of a weak event than a strong one," says the IRI forecast.
IRI late last month released an El Niño Primer for the Global Health Community, and the Climate Centre's own guidance note on El Niño is here.
Further background is also available in module 2b, "Using forecasts: Early Warning, Early Action", of the recently launched Red Cross Red Crescent Climate Training Kit.
Seasonal forecasts and other weather and climate information can be found in the IFRC climate map room and through its Disaster Management Information System intranet.
Concerned humanitarians can email questions direct to the IFRC helpdesk at ifrc@iri.columbia.edu.
Each El Niño is different, however, and Red Cross Red Crescent disaster managers in areas that may be affected are advised to stay in touch with their home meteorological service to monitor forecasts over the next few weeks and months.
An IRI graphic shows typical El Niño impacts; but each El Niño is different and disaster managers should stay in touch with meteorological services to monitor forecasts. (Image: International Research Institute for Climate and Society)