'Climate Training Kit' for Red Cross Red Crescent Movement launched online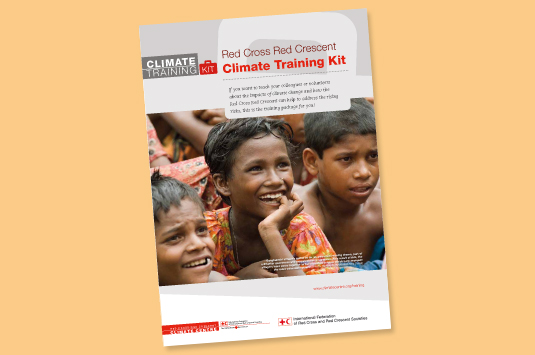 26 June 2014
The new Climate Training Kit – created by the Climate Centre in collaboration with the IFRC's Department of Community Preparedness and Risk Reduction (CPRR), with support from the Canadian Red Cross and contributions from many National Societies around the world – is fully launched online today.
The kit provides a comprehensive range of educational materials to build the capacity of Red Cross Red Crescent Movement staff and volunteers, and links to existing IFRC products and guides.
Interactive and flexible learning modules – with exercises, games, film clips, presentations, reading materials, and examples from National Societies – have been designed for workshops on the humanitarian impacts of climate change.
They are also intended to reinforce awareness raising and participation in policy dialogues with governments and other stakeholders.
Local context
The kit aims to support National Societies in capacity building of staff and volunteers to address climate-related risks in disaster risk reduction and management, health, and humanitarian diplomacy.
It provides a large reservoir of resources, but is not meant to be applied in one go; trainers and facilitators can select from among the modules to design a single learning session or a longer workshop.
In particular, the kit offers many exercises and participatory games, but it is intended to stimulate learning rather than providing ready-made answers that will have to be developed at the local level.
Workshop facilitation teams should include people familiar with the local context, and advance collaboration between them is strongly recommended.
'Initiatives'
The Climate Centre and IFRC CPRR department will respond to requests for support – including contextualization and Spanish-language version of some elements – to kit@climatecentre.org.
The IFRC's Strategy 2020 commits itself to addressing the humanitarian consequences of climate change through integrating climate risk management into strategies, plans and programmes – including awareness raising and advocacy.
"Climate change is a global problem with local impacts," said Mohammed Mukhier, head of the IFRC CPRR Department, welcoming the new kit. "One thing we know is that the future will be different from the past.  
"National Societies are taking initiatives to address the rising risks, and we hope this new training kit will help them do that."
The Climate Training Kit includes inputs from Movement colleagues around the world, as well as the International Research Institute for Climate and Society. 
(Image: Climate Training Kit brochure cover.)