Climate Centre trains UN agro-development specialists in game facilitation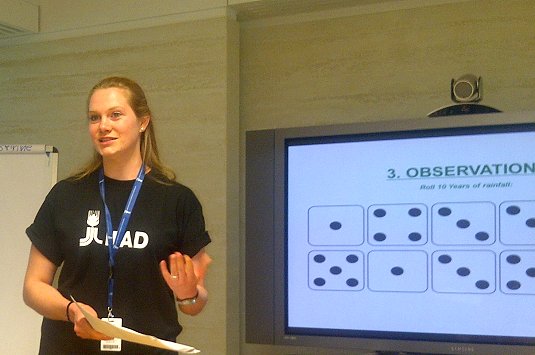 12 June 2014
The Climate Centre last week ran a two-day training session in game facilitation for staff at the International Fund for Agricultural Development (IFAD) at its Rome headquarters.
Nearly 20 IFAD staffers were trained as facilitators on two new Climate Centre games: ASAP and Decisions for the decade.
Not only did the training equip the IFAD team with tools and facilitation skills, it included a participatory session on designing games that addressed the complexities of climate risk management in agriculture.   
IFAD – a specialized UN agency and Climate Centre partner – is now including games in the repertoire of communications, engagement and learning tools for its global Adaptation for Smallholder Agriculture Programme (ASAP), for which the Climate Centre game is named.
The ASAP programme, being implemented in more than 30 countries, channels finance to smallholder farmers to help them access the information tools and technologies that help will build their resilience to climate change. 
Collective decisions
Like climate change adaptation itself, well-designed games involve decisions with consequences.
The games shown to IFAD facilitators enable players to think about climate change in the setting of smallholder farming systems, and creatively explore the sometimes surprising or counter-intuitive outcomes of individual and collective decisions.
After the two-day Rome training session, participants indicated they would adopt game-based approaches in future capacity-building initiatives in the field.  
The ASAP programme has already started to roll out climate games in Mali and Rwanda, and other countries such as Nicaragua and Bolivia are likely to get the tools later this year.  
IFAD/ECD intern Tiffany Minjauw at the training session for game facilitation run by the Climate Centre at the agency's Rome headquarters.(Photo: Ilaria Firmian/IFAD)