Philippines calls for 'focused international effort' to meet climate threats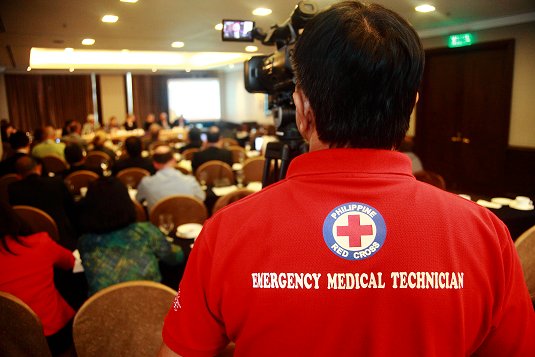 6 June 2014
President Benigno Aquino of the Philippines yesterday said it is now vital to mount "a focused international effort to address the threats posed by climate change, and to build communities that are resilient in the face of disaster."
Opening the Asia-Europe Meeting (ASEM) Manila Conference on Disaster Risk Reduction and Management, President Aquino described Typhoon Haiyan last year as "unlike anything we had previously encountered.
"Some experts say that it was the most powerful storm to make landfall in recorded history. It certainly felt that way."
Typhoon Yolanda, as it's known in the Philippines, "swept away many of the relief goods we had stockpiled," Mr Aquino said, and "affected millions…including some of the first responders who were supposed to give initial assistance to those affected."
Scientific capabilities
The country sees some 20 storms a year, he added, and they had "not only become more powerful, they have also begun shifting tracks, hitting areas that are not normally frequented by typhoons."
But the Philippines would "refuse to be condemned to a vicious cycle of destruction and reconstruction."
The government was now undertaking a "large-scale enhancement" of its scientific capabilities to meet the rising risks.
It was deploying Doppler radar for better estimates of rainfall with incoming cyclones; early-warning systems in major river basins were being integrated as part of the Nationwide Operational Assessment of Hazards project; hundreds of hydrometeorological gauges were being installed countrywide; and a new website was providing the public with real-time weather information.
The topography of flood plains and river basins was also being scanned to prepare high-resolution hazard maps identifying areas prone to floods, landslides and tsunamis.
"These efforts go hand in hand with training our personnel working with the local communities in the use and maintenance of these new technologies," President Aquino added.
"We are also finding ways to make it easier for all Filipinos to act on the information made available to them."
'Predict, plan, prepare, practice'
The conference in Manila, which ended today, was proposed by the Philippines at the ASEM summit in Laos in 2012.
Richard Gordon, Chairman and CEO of the Philippine Red Cross (PRC), who spoke at a conference working group, said a "reinvented" National Society was striving to face the new dangers.
"The Red Cross places particularly strong emphasis on climate change," Mr Gordon said. "There's obviously been a shift, and we have to make sure we respond to it.
"With the 'new Red Cross' we've created, we have volunteers on the ground in practically every school, every village, every workplace.
"With climate change, we have to help our people identify what the hazards are – predict the dangers they face.
"The watchwords are: predict, plan, prepare, practice."
Recovery
The Manila conference – co-hosted by the Philippines, the European Union, Japan and Switzerland – relived Haiyan and its aftermath through detailed, and sometimes harrowing, eyewitness accounts from local government leaders and mayors from affected areas – including the coastal city of Tacloban, in Leyte province, the disaster's epicentre.
The initial plenary session also heard opening statements from, among others, the Philippine Secretary of Foreign Affairs, Albert del Rosario; Kristalina Georgieva, EU Commissioner for International Cooperation, Humanitarian Aid and Crisis Response; and Margareta Wahlstrom, Special Representative of the UN Secretary-General for Disaster Risk Reduction.
The conference concluded with a "Post-Haiyan Tacloban Declaration", adopted by consensus, affirming the central role in disaster risk reduction and management of national governments.
Among the five-page document's references to climate is a call for support for "the incorporation of DRRM [disaster risk reduction and management] and climate change in the post- 2015 development agenda."
The European Commission this week said it would provide a further €30m in aid for Haiyan-affected communities, centred on health services and reconstruction.
Last month the IFRC and PRC jointly announced a 320m-Swiss franc, three-year recovery plan to help people rebuild their lives and enhance the capacity of the Philippine Red Cross through the training for volunteers and strengthening its expertise in risk reduction and disaster management.
A Philippine Red Cross camera operator films a working-group session at the ASEM Manila Conference on Disaster Risk Reduction and Management, where President Benigno Aquino said it is now vital to mount "a focused international effort" to address the threats posed by climate change. (Photo: Climate Centre)