'Unprecedented' river levels behind Serbia floods, says World Meteorological Organization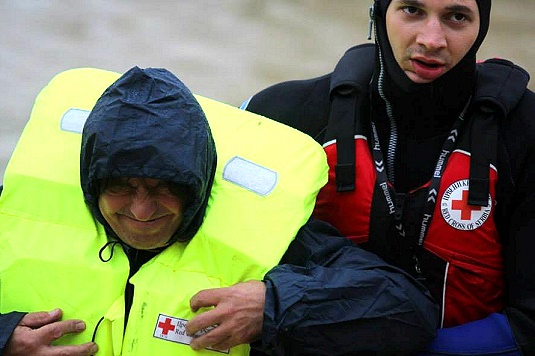 25 May 2014
Deadly floods and landslides in Bosnia and Herzegovina, Croatia and Serbia were caused by "some of the heaviest rainfall on record", according to the Geneva-based World Meteorological Organization (WMO) on Wednesday.
Heavy rainfall intensified in early May and more than 100 millimetres was recorded in parts of the region just in two days because of a stationary low-pressure system, said the WMO, an IFRC partner agency.
In Serbia, "unprecedented water levels in many rivers", especially the Sava, Mlava and Kolubara, forced thousands of people from their homes and left huge areas submerged.
But the WMO added: "Meteorological and hydrological services in the region provided…regular advance warnings of the risks from the deluge, thus helping to limit but not avert casualties.
"Without these warnings the loss of life could have been even higher."
Emergency appeal
All three nations issued alerts about the extreme rainfall, and the Serbian government publicly praised the Republic Hydrometeorological Service of Serbia for its "timely and accurate" warnings, says the WMO, and these were distributed "promptly throughout the disaster risk reduction system."
In Bosnia and Herzegovina the Red Cross mobilized multi-purpose teams in affected areas and also assisted the authorities with evacuations, as well as distributing blankets, mattresses, drinking water, food, hygiene kits, rubber boots and water purifiers to more than 10,000 people.
In Croatia nearly 3,000 people were at one point being sheltered in emergency accommodation provided by the Red Cross.
Thousands of staff and volunteers with the Red Cross in Serbia have been assisting with evacuations and providing relief items.
Relief efforts were hampered by large-scale damage to infrastructure; boats and aquatic rescue teams (photo) were deployed while Red Cross volunteers had to wade through chest-deep water to deliver relief items to people.
"The full extent of the damage is still unclear," said Anitta Underlin, Director of the IFRC in Europe, in a press release.
"Initial assessments show that the affected populations have experienced incapacitating losses and they remain exposed to increasing risks including landslides and unearthed landmines."
The IFRC released over 620,000 Swiss francs (nearly 700,000 US dollars) to help people severely affected, and has now launched an emergency appeal for just over 4.5m Swiss francs to support the response operations in Bosnia and Herzegovina. 
Flood losses
Working Group II, covering impacts, of the Intergovernmental Panel on Climate Change (IPCC) said in March: "Sea level rise and increases in extreme rainfall are projected [with high confidence] to further increase coastal and river flood risk in Europe and, without adaptive measures, will substantially increase flood damages."
Detail and analysis on IPCC reports is available at climatecentre.org/site/ar5.
In March the Climate Centre reported on new research – a paper in Nature Climate Change – that said flood losses in across Europe were likely to increase "considerably" over the next few decades, partly because of projected climate change.
But a first analysis of the current episode by the Royal Netherlands Meteorological Office finds no evidence that climate change is increasing the likelihood of extreme floods in the sub-region.
Looking specifically at the Balkans, said Dr Maarten van Aalst, Climate Centre Director, "some climate models are showing an increase in extreme floods there, others a decrease.
"In any case, what's encouraging about this episode, despite the tragic losses, is that warnings were issued in good time and did lead to lives being saved.
"Now we need to continue our efforts to replicate systems like this, including in less well-resourced countries that may be even more at risk from flood disasters."
Public safety
The WMO said the flood disaster in the Balkans highlights the importance of an EU-funded project to increase resilience to weather and climate extremes in the Balkans and Turkey.
This had helped Bosnia and Herzegovina join MeteoAlarm in February – an online information hub providing comprehensive weather warnings across Europe, also seen as an important tool for better disaster management and public safety.
The three countries currently facing the flood emergency, plus Albania, Montenegro, the former Yugoslav Republic of Macedonia, Moldova and Slovenia, are also part of the South-Eastern Europe Flash Flood Guidance System – a project funded by USAID that provides guidance from hydrological modelling on potential flash floods.
The Climate Forum East project for Armenia, Azerbaijan, Belarus, Georgia, Moldova and the Ukraine – co-funded by the EU, the Austrian government and Red Cross and WWF International – was launched last year.
Its main goals are to help civil society contribute to the political agenda in environmental governance and climate change, and provide input to national communications for the UN Framework Convention on Climate Change.
A Serbian Red Cross aquatic rescuer helps a man to safety earlier this month after river levels reached "unprecedented" levels, triggering disastrous flooding there and in other Balkan nations. (Photo: Serbian Red Cross via IFRC)