Forecast-based financing could 'catalyze humanitarian action', says new research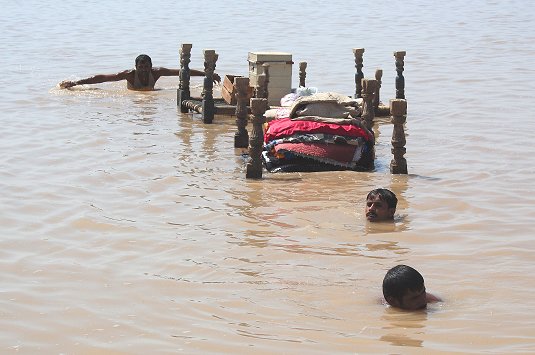 9 May 2014
A new research paper by specialists from the Climate Centre, German Red Cross, Royal Netherlands Meteorological Institute, and VU University Amsterdam argues that automatic triggers for emergency finance based on forecast warnings of weather and climate extremes could "catalyze humanitarian action" and increase its impact.
The paper, Forecast-based financing: an approach for catalyzing humanitarian action based on extreme weather and climate forecasts, was published as a discussion paper earlier this week by Copernicus for the European Geosciences Union.
Its six authors present a method for developing a "forecast-based financing" system that would match agreed thresholds of forecast probability of disaster with appropriate actions.
They suggest establishing standard operating procedures (SOPs) that embody a clear mandate to act when these thresholds are crossed, but before disaster strikes.
"Such as system can be scaled up in disaster-prone areas worldwide to improve effectiveness at reducing the risk of disaster," says a summary of the research.
Potential disaster
Development of the SOPs is being supported by the German Federal Ministry for Economic Cooperation and Development.
Red Cross National Societies in Togo and Uganda will be piloting the new forecast-based funding approach until 2018, with technical support from the German Red Cross and the Climate Centre.
It's hoped further pilots and research will expand the evidence base for forecast-based funding and the development of the associated SOPs.
Disaster risk reduction has traditionally focused either on long-term preventative measures or disaster response.
But the authors argue that there are many short-term actions, like evacuation, that can be implemented between a warning and a potential disaster.
Likely, not certain
"This precious window of opportunity is regularly overlooked in the case of climate and weather forecasts, which can indicate heightened risk of disaster but are rarely used to initiate preventative action," the new paper adds.
Obstacles range from protracted debate over the best strategy for intervention to donors' reluctance to invest in addressing a crisis that is likely but not certain.
Heavy monsoon rain was predicted several days before the huge flood in Pakistan in 2010 affected millions of people, for example; it has been argued that if those forecasts had been used to trigger action, the humanitarian sector could have averted some impacts.
The 2011 drought-based food crisis in southern Somalia was preceded by nearly a year of early warnings – including a specific famine warning three months before the event.
Pakistani villagers struggle to get their valuables onto dry land in Sindh province in 2010. That's year's monsoon "superflood" is an example of a disaster cited by new research arguing for smarter use of weather and climate forecasts to trigger humanitarian action. (Library photo: Alex Wynter/IFRC-Climate Centre)