CBA8 conference ends with call for financial help for vulnerable communities to adapt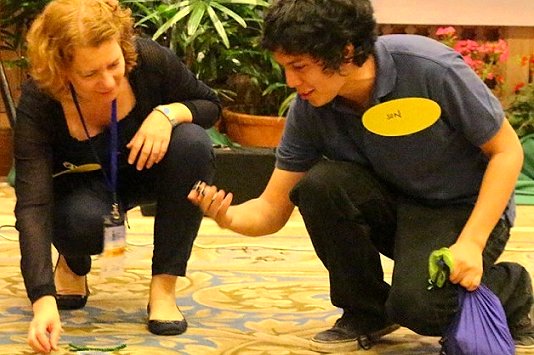 2 May 2014
The 8th Annual Community Based Adaptation Conference (CBA8) ended in the Nepalese capital this week with the "Kathmandu Declaration" calling for increased financial support to enable vulnerable communities to adapt.
More than 400 community workers, government donors, representatives of multilateral organizations, development practitioners and researchers took part in CBA8.
With 60 countries represented, it was clear there is strong interest in the theme.  
The conference focused on financing local adaptation, and organizers promoted increasingly innovative ways of learning in the course of the event.
'Out-of-the-box'
Field trips were offered to delegates to experience adaptation challenges in Nepal itself and appreciate local efforts to meet them.
Interactive "out-of- the-box" sessions promoted innovative ways of learning to deepen engagement with the theme, four of them facilitated by the Climate Centre:
A game on funding mechanisms before disaster but after scientific forecasts say an extreme event is likely generated energy, laughter and some valuable reflection about the

use of forecasts

 to trigger financing.

Other participants explored engaging in dialogue in collaboration with the

Southern Voices Programme 

and role-played securing funds for adaptation at the local level.

Another team guided a workshop through the Climate Centre's six steps for the 

participatory design of games

 – from conceptualizing theme and narrative to testing prototypes.

A game on micro-insurance for subsistence farmers looked at how decisions impact on food security.


 
The learning sessions provided interactive spaces to link thought with emotion, explore complexity and challenges and, last but not least, re-energize for other sessions.
There are many different ways to explore interactive learning to create spaces that allow us to think creatively about addressing the challenges of the present and the future.  
CBA8 was jointly organized by the London-based International Institute for Environment and Development, the Bangladesh Centre for Advanced Studies and Clean Energy Nepal.
Next year's CBA9 conference will be held in Kenya and focus on monitoring and assessing the impact of community-based adaptation.
Exploring the narrative of an adaptation game on small-scale farming and heritage seed potatoes in the workshop on game design during CBA8. 
(Photo: Bettina Koelle/Climate Centre)