El Nino by northern autumn 'at least 75% likely', but potential strength uncertain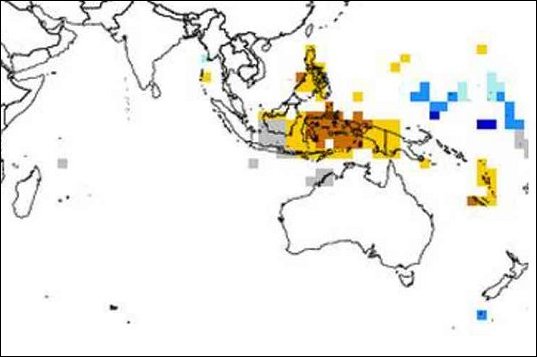 25 April 2014
The New York-based International Institute for Climate and Society (IRI), an IFRC partner organization, this week increased to 75–80 per cent the chances of El Niño conditions developing later this year.
IRI's previous monthly El Niño forecast, for March, stood at 60 per cent probability.
The IRI forecast emphasizes that although the odds for El Niño conditions are rising, it is still uncertain whether it will be a weak, moderate, or strong.
During April, May, and June, during what climate scientists call the "spring predictability barrier," the Pacific is dynamic and can change quickly, making it hard to predict how it will behave.
In June, however, the likelihood of an El Niño, including its potential strength, will become clearer, according to IRI.
'Below-normal rainfall'
"The IRI's forecasts are already picking up some precipitation effects from the expected El Niño," said IRI Chief Forecaster Anthony Barston.
Among regions of the world where below-normal precipitation is likely is the northern part of South America, he added, "but most of all Indonesia has a very strong probability for having below-normal rainfall…in the next few months."
Unusually wet conditions were more likely in many parts of the Pacific, meanwhile, according to the IRI-Climate Centre "Global Forecast: Total Rain and Snow for May–July 2014," just posted on this website as a new publication.
IRI issues seasonal climate forecasts for the whole world every month.
Red Cross Red Crescent disaster managers in areas that could be affected by El Niño are now advised to stay in touch with their home meteorological service to monitor forecasts over the next few weeks and months.
The latest global forecast and other weather and climate information can be found in the IFRC map room.
Humanitarians can also subscribe to IRI email alerts, and check information at #IRIforecast and #ENSOQandA on Twitter.
A section from the latest IRI–Climate Centre global forecast map, showing an increased chance of unusually dry conditions over Indonesia (the yellow-brown areas), with unusually wet conditions (blue) more likely in parts of the Pacific. The full forecast is available here. (Source: IRI)