When playing helps build resilience in Mali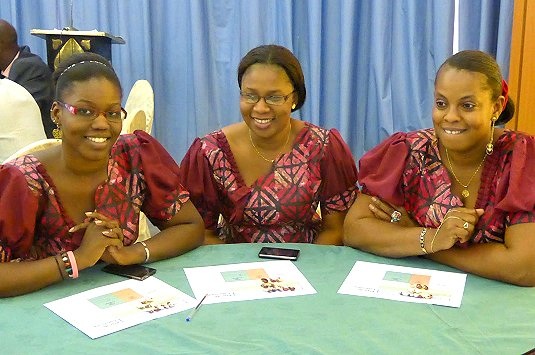 10 April 2014
This article was first published on the social reporting blog of the International Fund for Agricultural Development (IFAD), a specialized UN agency and Climate Centre partner
I have just returned from the Mali Enhancing Agricultural Productivity/Adaptation for Smallholder Agriculture (PAPAM/ASAP)project.
It was officially launched on 20 March in Bamako, in the presence of the Minister of Environment and the Minister of Livestock and Fisheries.
There was a formal launch following three days of an intense technical workshop involving the newly recruited project team that will be deployed in the Bamako, Sikasso and Kayes regions.
All key partners – Agence de l'Environnement et du Développement Durable, Mali Météo, Association des Agronomes et Vétérinaires Sans Frontières, Système d'Information Forestière – and an IFAD support team from West and Central Africa and Environment and Climate Divisions were present.
For the first time in an ASAP inception workshop, the Red Cross Climate Centre facilitated the use of climate games. The games helped the project team in understanding and taking ownership of the project's goals and objectives.
Climate information
The game Paying for predictions was adapted to suit the Mali PAPAM/ASAP design concept.
Each participant represented a commune and sat with five others. Each table of five represented a region, for a total of five regions.
Participants had to cope with the cumulative effects of the rains in the entire region (whose intensity from was determined by the roll of one green dice) and the local rain in each commune (determined by the roll of a white dice).
They were also offered the opportunity to protect themselves both with disaster risk reduction actions such as tree planting, and with access to climate information. Both these actions will be implemented in the PAPAM/ASAP project.
During the political segment, the different introductory speeches, given from the perspective of Farmers' Organizations or of the Minister of Environment, have been focusing on the harshness of climate impacts in Mali, that is suffering more and more from severe droughts coupled with heavy rains.
The IFAD representative's opening speech illustrated the scaling up character of the ASAP project, which draws on IFAD experiences in Mali with participatory approaches, such as participatory mapping and vulnerability assessment, for the development of local plans.
Decisions
Within ASAP these approaches will be adopted at ecosystem level, to ensure that local development actions are coherent and build an effective resilience.
A simplified version of the climate game played during the technical segment was adopted for the political launch.
Representatives from ministries, NGOs, CSOs and IFAD project coordinators were put in the shoes of decision-makers having to take investment decisions for a ten-year time period (Decisions for the decade game), and consequently allocating their own budget (ten beans each) against three lines: "regular" development, protection against drought, protection against flood.
Although this was clearly a simplified representation of the reality, participants tended to use their own reality as a reference, for example, referring to the Malian average of a drought every four years, investments were mostly going in drought protection.
Women involved in the Mali Enhancing Agricultural Productivity/Adaptation for Smallholder Agricultureproject taking part in last month's Bamako games session. (Photo: Ilaria Firmian/IFAD)