IFRC 'deeply concerned' by humanitarian consequences of climate risks highlighted in new IPCC report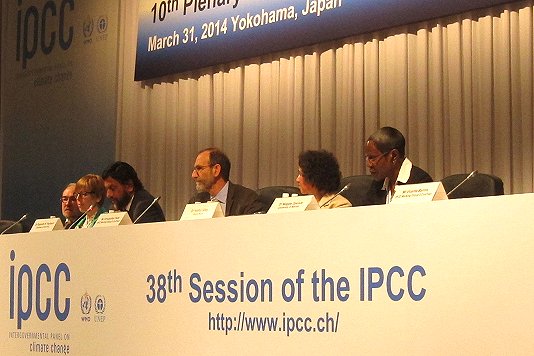 31 March 2014
The Secretary General of the International Federation of Red Cross and Red Crescent Societies (IFRC), Bekele Geleta, said today he was deeply concerned about the increasing risks climate change poses to people, reflected in the latest report by scientists on climate impacts.
The new report from Working Group II of the Intergovernmental Panel on Climate Change (IPCC), focusing on impacts, adaptation and vulnerability, was released today in Yokohama, Japan.
The entire second section of the Summary for Policymakers is devoted to future risks and opportunities for adaptation. It says, "Increasing magnitudes of [global] warming increase the likelihood of severe, pervasive and irreversible impacts."
Risk
Speaking in Geneva, Mr Geleta said, "Given the larger evidence base on which the scientists are forming their conclusions and the heightened emphasis on risk to people, we are deeply concerned about this new report, and its implications on our ability to respond to mounting risks today and in the years ahead."
A table in the report shows key risks by geographical region and strongly echoes many of the climate-related humanitarian emergencies that millions of volunteers and staff of National Red Cross and Red Crescent Societies have responded to over the past decade. These humanitarian emergencies include:
"stress on water resources" and reduced agricultural productivity in Africa
heatwaves, "economic losses and people affected by flooding" in Europe
floods and "drought-related water and food shortage causing malnutrition" in Asia
damage to coral reefs and marine ecosystems, as well as floods in Australasia
wildfires and killer heatwaves in North America
decreased food production and quality in Central and South America
"loss of livelihoods, coastal settlements, infrastructure, ecosystem services and economic stability" in small islands.
Significantly, the summary mentions the word "risk" more than 230 times, compared to just over 40 mentions seven years ago in the Fourth Assessment Report.
"This report confirms once more, that we have no choice but to adapt to climate change. said Walter Cotte, IFRC Under Secretary General, Programme Services. "For the IFRC, strengthening resilience and preparedness is the first line of defense for vulnerable communities in many risk-prone countries.
"Enhanced actions and concrete investments in disaster risk reduction and adaptation processes  are needed to help avert or reduce the worst consequences of climate change 
"The report also shows that if we continue to emit greenhouse gases as we are today, we are heading for much more dramatic changes in the climate system which we may not be able to adapt to, posing very serious humanitarian impacts."
'Resilience-building'
Mr Cotte added: "The Red Cross and Red Crescent is working with communities across the globe to strengthen their ability to address the challenges of climate change, with a particular focus on disaster preparedness, disaster risk reduction, food security and livelihoods.
"Through our extensive network of volunteers, we aim to bridge the last mile gap by working with the most vulnerable communities and strengthening local level preparedness. For example, as part of the Global Framework for Climate Services programme, the IFRC is partnering with the World Meteorological Organization to implement the Climate Services Adaptation Programme in Africa, which aims to build resilience in disaster risk management, food security, nutrition and health.
"More than ever, we need to embark on plausible – and adequately funded – early-warning and resilience-building measures, starting with the poorest and most vulnerable parts of the world."
The IPCC Working Group II 'AR5' report is presented to the world at a news conference in the Japanese port city of Yokohama. From left to right: Michel Jarraud, Secretary-General of the World Meteorological Organization; Renate Christ, IPCC Secretary; Rajendra Pachauri, IPCC Chair; Chris Field, Working Group II Co-Chair; Habiba Gitay, Review Editor, from the World Bank; Maggie Opondo, Coordinating Lead Author, from the University of Nairobi;  (Photo: Maarten van Aalst/Climate Centre)