IFRC publishes online climate course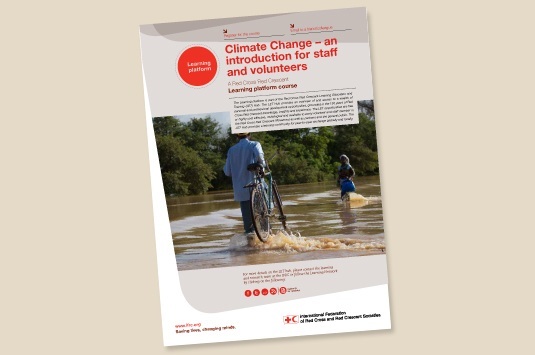 21 March 2014
A new course, Climate change – an introduction to staff and volunteers, was launched yesterday on the online IFRC learning platform.
The 30-minute course is highly device-friendly and can be used on smart phones and tablets as well as PCs.
It was developed for staff and volunteers of the Red Cross and Red Crescent Movement with limited knowledge about climate issues, or none at all, but who are interested in learning more.
The course content was compiled jointly by specialists at the IFRC secretariat office in Geneva and the Climate Centre, based at the Netherlands Red Cross in The Hague.   
"With climate change severely affecting millions of lives around the world, the Red Cross and Red Crescent network wants to strengthen its organizational capacity in this field and scale-up action to address what's now a global humanitarian problem," said Dr Meinrad Burer, Senior Officer for Climate Change Mitigation in the IFRC Community Preparedness and Risk Reduction Department in Geneva.
"Through this course, staff and volunteers will learn about the root causes and consequences of climate change, and how to help address these issues in their day-to-day work with communities," he added.
Experience
The course's five modules include background on the causes and impacts of climate change, highlighting the work of the Red Cross and Red Crescent, case studies to illustrate how climate considerations are being mainstreamed into existing programming, and advice on how staff and volunteers can help.
A video introducing the course is also available online.
The IFRC learning platform is part of the Red Cross and Red Crescent Learning, Education and Training Hub (LET), linking visitors to a wealth of personal and professional development opportunities grounded in a century and a half of experience working with communities.
LET resources are available either for free or at very reasonable prices. They are also available in multiple languages and can be accessed  by every volunteer and staff member in the Red Cross and Red Crescent Movement, as well as partner organizations and the public.
Other featured courses include community-based health and first aid, restoring family links and psychosocial support, and humanitarian diplomacy.
The new e-learning course was made possible with the support of the Canadian and Norwegian Red Cross.
Staff and volunteers can find further information on climate change in the FedNet pages of the IFRC's Community Preparedness and Disaster Risk department, and in the Climate Centre's Climate Training Kit, now available on its website.
Science
The IFRC learning platform is a "rapidly growing global community of over 50,000 learners from all 189 National Red Cross and Red Crescent Societies, and consistently achieves industry-topping completion rates of above 50 per cent across all courses," according to its homepage.
Climate change – an introduction to staff and volunteers has been released in the run-up to the publication at the end of the month of the IPCC's key Working Group II report, covering "impacts, adaptation and vulnerability" and generally regarded as being of most relevance to humanitarian agencies.
Walter Cotte, the IFRC Under Secretary General for the Programme Services Division called for IPCC science to be turned into "concrete, tangible actions at scale on the ground," speaking last year after a summary of the Working Group I report was released.