Double the extreme events, five times the losses? Europe faces a flooded future, says new research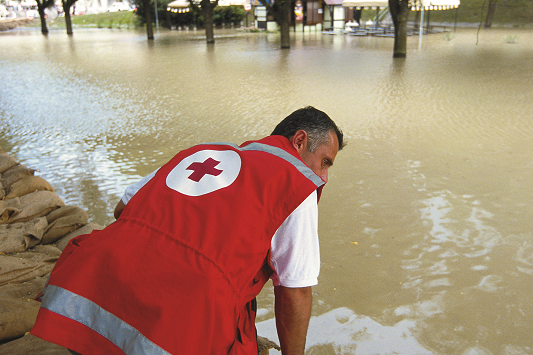 5 March 2014
Flood losses in Europe are likely to increase "considerably" over the next few decades, partly because of projected climate change, according to a paper published online this week in Nature Climate Change.
Major floods are expected to become more common and strain disaster finance at both country and EU level – highlighting the need for societies to better anticipate and respond to such disasters.
The researchers model present and potential flood losses, taking into account climate change and economic development.
Their computer simulations suggest flood losses "could increase by 500% from now to 2050, with…extreme events – leading to losses due to floods of the magnitude suffered in 2013 (€12 billion) – approximately doubling," according to a Nature Climate Change news release announcing the article.
Climate change is expected to be responsible for a third of the increase in the coming decades, it says, while socioeconomic growth accounts for the rest.
"Although the…losses can be contained by investing in flood protection, and their effects mitigated by increasing insurance coverage or…public compensation funds," the release adds, "the results of the study show that these measures have vastly different efficiency, equity and acceptability implications."
'Large-scale weather'
The authors conclude that European countries may need to assist each other financially when major floods hit.
Author Brenden Jongman and colleagues say they have found that "strong positive cross-correlations in peak discharge occur between basins in Central and Eastern Europe, following the patterns exhibited during the 2002 and 2013 floods across multiple countries in this region."
Last June, intense rainfall caused disastrous flooding in Austria, the Czech Republic, Germany and Slovakia; affected rivers included the Danube, Elbe, Mulde, Saale, and the Vltava, which flows through Prague.
Calling the flood on the River Saale "a tidal wave", the German news magazine Der Spiegel said the waters had reached "the highest level for 400 years".
The study has "wider implications for the disaster risk reduction and response communities around the world," the Nature Climate Change release adds.
"Floods are shown to result from large-scale weather patterns that cross political and economic boundaries, which should be taken into account in the development of adaptation efforts and risk management strategies in all world regions."
A Slovak Red Cross worker checks sandbag flood defences.
(Photo: Andrew McColl/IFRC)