UK Met Office: more research 'urgently needed' to refine climate models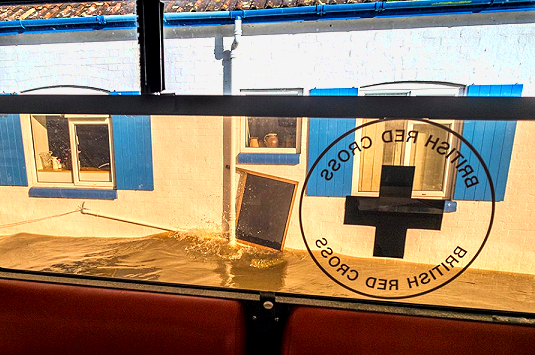 19 February 2014
The British Met Office – in a new report offering a "global perspective" on the severe weather in the UK – says more work must be done on climate models to clarify the relationship between climate change and recent storms, rain and floods.
The storms that have been battering the UK since the end of last year led to the wettest December–January period in the country since records began.
"As yet, there is no definitive answer on the possible contribution of climate change," said a Met Office summary of the report, compiled jointly with the Centre for Ecology and Hydrology and released earlier this month.
This was partly due to the already highly variable nature of UK's weather and maritime climate.
But recent studies suggested "an increase in the intensity of Atlantic storms that take a more southerly track, typical of this winter's extreme weather," the report added.
Jet stream
"There is also an increasing body of evidence that shows that extreme daily rainfall rates are becoming more intense…consistent with what is expected from the fundamental physics of a warming world.
"More research is urgently needed to deliver robust detection of changes in storminess and daily/hourly rain rates and this is an area of active research in the Met Office."
Directly linking these changes to human-induced global warming required climate models "of sufficient resolution to capture storms and…associated rainfall," said the Met Office.
But such models were becoming available and should be used quickly "to provide a solid evidence base for future investments in flood and coastal defences."
The recent storms and floods in the UK coincided with an exceptional cold wave in North America, and meteorologists said extreme weather on both sides of the Atlantic was related to persistent disturbances of the jet stream over the Pacific Ocean and North America. The North Atlantic jet stream was also said to be unusually strong.
'Round the clock'
The heavy rains combined with strong winds and high waves have led to widespread flooding and coastal damage, causing significant disruption to individuals, businesses and infrastructure, and triggering a major nationwide response by the British Red Cross (BRC).
The BRC said this week it was "working round the clock" to help those hit hardest by the floods.
The National Society's website added: "In the past week, around 600 emergency response volunteers have directly helped more than 1,000 people – delivering supplies, transporting stranded residents and carrying out welfare checks in inaccessible areas.
"In Somerset, perhaps the hardest-hit region in the UK, the Red Cross has been supporting affected communities on a daily basis since before Christmas."
The BRC was using two four-wheel-drive (4×4) vehicles and an all-weather Unimog truck to reach inaccessible areas.
Drinking water
In Wales, where hurricane-force winds brought many cables down, the BRC was checking on hundreds of vulnerable residents hit by power cuts.
In Surrey last weekend, Red Cross volunteers in 4x4s went on call-outs with the local ambulance service; teams reached several communities cut off by floods to bring drinking water.
"The weather forecasts still aren't bringing the news we'd all like," said Simon Lewis, BRC head of emergency planning and response, "but people should be assured that the Red Cross is equipped to keep helping as long as we're needed.
"As the ongoing response in Wales has shown, our volunteers simply won't stop until everyone who needs our help receives it."
The British Red Cross also publishes advice and information on preparing for floods.
Red Cross volunteers in Somerset, in the West of England, one of the areas worst affected by recent floods, are using 4x4s and an all-weather UNIMOG vehicle to deliver supplies to cut-off villages. (Photo: Chuck Haupt/BRC via Facebook)