In a changing climate, Dutch lottery grant will 'help tens of thousands' in Philippines prepare for disasters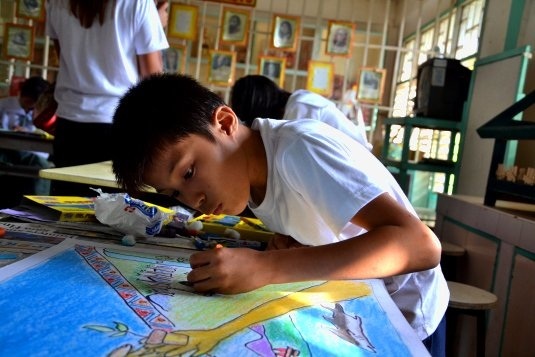 11 February 2014
The Secretary General of the Netherlands Red Cross (NLRC), Gijs de Vries, has welcomed a 2.2m euro donation from the National Postcode Lottery to the Philippines to help protect the archipelago nation from disasters like Typhoon Haiyan that claimed thousands of lives last November.
"With a changing climate it is likely that disasters in the Philippines will increase," said Mr de Vries.
"With the support of the Dutch Postcode Lottery we can help tens of thousands of people…be better prepared for disasters and at the same time show how important it is to invest more in prevention and preparedness."
The Red Cross and CARE Nederland have been working closely together in the Philippines for several years, said a press release issued jointly by the two Partners for Resilience (PfR) agencies.
Impacts
It added: "Thanks to the support of the Postcode Lottery we can expand our current activities [and together] with Wetlands International and local partners we will help 150 puroks [villages] and their 35,000 inhabitants on Mindanao be better prepared for future disasters.
"Possible measures are the implementation of early-warning systems, the elevation of houses, the construction of evacuation centres, and the planting of mangrove trees as a natural buffer."
The new "climate-smart" disaster risk reduction (DRR) work will be implemented over three years in the provinces of Compostela Valley and Agusan del Sur on the island of Mindanao.
In recent years the Philippines have suffered a barrage of climate impacts, including unpredictable rainfall, stronger typhoons, rising sea-levels, alternating floods and droughts, and bushfires – all seriously impacting on economy, environment and communities alike. 
'Ecotowns'
Rice and corn crops, coconuts, forests, and banana plantations have been greatly affected, especially, in the Agusan river basin. 
The new lottery-funded work will build on PfR experience; the project sites will be dovetailed with current PfR areas, bringing together communities living within the same river basin whose actions it's hoped will now complement each other. 
The PfR approach – which merges DRR with climate change adaptation and ecosystem management and restoration in building more disaster-resilient communities – will be used to reduce the vulnerability of communities in both upstream (Compostela valley) and downstream (Agusan del Sur) areas of the river basin. 
The project will also borrow from an "ecotown" model initiated by the Philippine Climate Change Commission, working through local government units in or near key biodiversity areas like watersheds that are highly vulnerable to climate impacts. 
A schoolboy in Surigao del Norte province, a Netherlands Partners for Resilience project location on Mindanao, taking part in a national poster competition to show visions of how to prepare safe communities. (Photo: Charlotte Floors/NLRC)