'Community-based adaptation': the future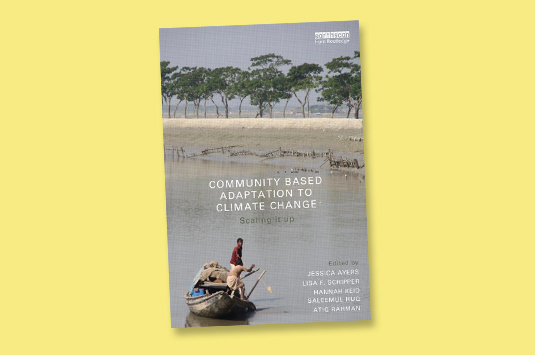 20 January 2014
A new look at the future of "community-based adaptation" (CBA) has been made available for pre-ordering online by publishers Routledge.
Community-Based Adaptation to Climate Change, Scaling it up is a collection of specialist papers edited by E. Lisa F. Schipper, Jessica Ayers, Hannah Reid, Saleemul Huq and Atiq Rahman.
It explores the adaptation challenge facing vulnerable communities worldwide and asks "fundamental questions", according to Routledge:
How can we move from "place-based" projects to more programmatic adaptation planning?
How does CBA fit with larger-scale adaptation policy and programmes?
How are CBA interventions situated within the institutions that enable or undermine capacity?
CBA is a "growing proposal that argues for tailored support at the local level to enable vulnerable people to…implement appropriate community-based responses to climate change," the publishers add.
'Serious fun'
"This book…provides a wealth of knowledge, such that society across the globe can deal with the impacts of climate change to the extent possible through appropriate adaptation measures rooted in the capacity and strengths of local communities," said Dr Rajendra Pachauri, Chair of the Intergovernmental Panel on Climate Change (IPCC).
Dr Pachauri last week took part in a special session of the Climate Centre participatory game Decisions for the decade, intended to promote discussion about the interface between climate information and real-world decision-making.
The IPCC chair was among a group of nearly 40 of the world's leading climate scientists, all IPCC authors, in the Netherlands for a meeting on the forthcoming Synthesis Report that will accompany the Fifth Assessment Report on global climate change.
The new book's Chapter 9 – "Serious Fun: Scaling Up Community Based Adaptation through Experiential Learning"– was co-authored by the Climate Centre's Associate Director for Research and Innovation, Dr Pablo Suarez, specialist consultants Janot Mendler de Suarez and Bettina Koelle, and Max Boykoff – an Assistant Professor in the Center for Science and Technology Policy at the University of Colorado-Boulder. 
"Our chapter draws on five case studies where games have encouraged participatory learning by communities and policy-makers involved in Red Cross Red Crescent initiatives,"said Dr Suarez.
"This important new publication on CBA is the fruit of the Climate Centre's long-standing collaboration with organizers of the community-based adaptation conferences, at which we've facilitated games since 2010."