Caribbean Reference Centre for Disaster Risk Management launches 'virtual library'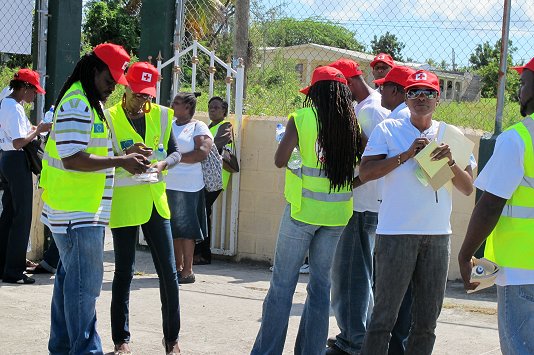 15 January 2014
The IFRC's Caribbean Disaster Risk Management Reference Centre (CADRIM), hosted by the Barbados Red Cross Society, last week launched its new website, featuring a "virtual library" with a wealth of reports and case studies from Red Cross Red Crescent Movement work in the region.
The site is currently available in English and it is hoped later to make content available in other Caribbean languages including Spanish, Creole and Dutch.
Other online highlights include photos and videos from various events including training sessions, a feedback tool for users, and information about the core functions of CADRIM and the IFRC, as well as links to internet resources.
"We extend our sincere appreciation to the Canadian Department of Foreign Affairs, Trade and Development and Canadian Red Cross for funding this initiative," said CADRIM's Coordinator, Reynette Royer.
"We'd like to thank the IFRC's Organizational Development, Learning and Innovation Unit and the CADRIM team – staff, interns and volunteers – who rallied together to import content and design the site," she added
Seasonal alerts
CADRIM, which became operational in 2010, was established at the request of the Caribbean Disaster Management Network, which represents the region's National Societies and promotes effective disaster management in the Caribbean.
The Caribbean reference centre is a close partner of the Climate Centre, and the two are now working jointly with the Barbados-based Caribbean Institute for Meteorology and Hydrology on a new format for seasonal forecast alerts, aiming to be operational in the spring.
The institute's Cedric Van Meerbeeck said: "We also need to increase user perception of the value of early warning systems, which should come together with an appreciation of the reduced cost of disasters. We need to design tools to estimate the benefit of early warning."
The Climate Centre has also supported Caribbean regional Red Cross teams with graduate-student researchers and interns, and provided climate-related educational videos to the National Societies of Antigua and Barbuda, the Bahamas, the Cayman Islands, St Kitts and Nevis, and Trinidad and Tobago.
CADRIM can also be reached on Facebook.
Red Cross personnel helping to pilot the Caribbean Climate Change Adaptation Methodology ("3CA") in Antigua and Barbuda – one of four Caribbean nations where this was done. The others are Barbados, Jamaica and Suriname. 3CA is covered extensively on the new CADRIM website. (Photo: CADRIM)