Ethical issues for 'climate services' unpacked at international conference in Jamaica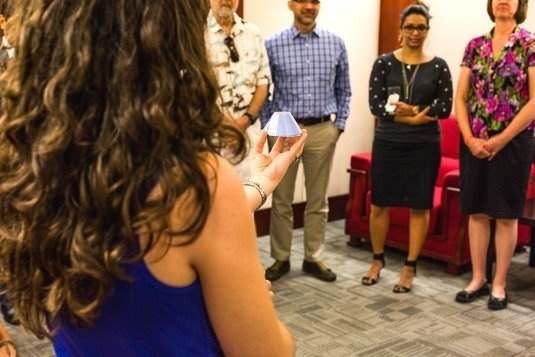 9 December 2013
The Third International Conference on Climate Services ("ICCS3"), hosted by the Meteorological Service of Jamaica and the country's Ministry of Water, Land, Environment and Climate Change, ended on Friday at the Montego Bay Convention Centre.
Climate services ensure high-quality science is communicated to agriculture, water, health and humanitarian sectors to develop climate mitigation and adaptation strategies.
ICCS3's main sponsors include USAID and the US National Oceanic and Atmospheric Administration.
"This conference is a very big deal for Jamaica," said Jacqueline Spence, section head for applied meteorology at the country's Meteorological Service.
"We see an opportunity to raise awareness among local people…most of our infrastructure lies along the coast, so sea-level rise is a definite issue."
Cavell Francis-Rhiney, a senior director at Jamaica's Rural Agriculture Development Authority, said: "The main climate risk that Jamaica faces is hurricanes…we also face floods and drought – and that's particularly significant for the agriculture sector – and of course storm surges."
The destructiveness of Typhoon Haiyan in the Philippines was blamed partly on the force of the accompanying sea surge, aggravated by record high sea levels in a warmer world.  
Realistic
The past few decades have seen a proliferation of global climate services, with varying characteristics and results. But what distinguishes one service from another? 


In Taking science to society, ICCS3 participants took on the roles of providers and users of climate information in a participatory game designed by the Climate Centre and the Climate System Analysis Group from the University of Cape Town.
"Providers" described their climate models in this game, trying to encourage "users" to invest their research budgets in a particular model. 

While the pitches by scientists elicited many laughs, participants reflected after the game that the behaviour was all too realistic: scientists were accused of "over promising and under-delivering" by users disappointed in the climate information they got.
The scientists, meanwhile, described their models as "verified and reliable" and cited the names of credible institutions to try to attract investment. This spurred a discussion on the ethics of climate services in the real world, ranging from verification techniques to how information is communicated. 


Users were disappointed when climate information was not as accurate as expected.
Guiding principles
Disaster managers working in the humanitarian sector often find seasonal forecasts unintelligible, or at best not relevant for their work. 

Much of the confusion stems from how the information is presented: seasonal forecasts are usually depicted in terms of bands of probability like "above-normal total seasonal rainfall".
The Caribbean Institute for Meteorology and Hydrology is working with the International Research Institute for Climate and Society (IRI) and the Climate Centre to bridge this gap. 


By researching historical floods, they have developed methods for translating a forecast just for seasonal rainfall into a probability of actual flooding.
In discussing the question of ethics, participants in an ICCS3 side-event agreed to define guiding principles for climate-service providers, both in the information they present and the user groups they serve. 


They agreed to work on new a code of conduct for climate-service providers, and efforts will be made to reflect the many constituencies involved in producing, communicating or using climate services.
When the first draft has been completed, the group hopes to re-run Taking science to society, but this time with some of the "scientists" abiding by the code.
IRI, based at Columbia University in New York, hosts the Climate Services Partnership – an informal international network of climate-information users and providers as well as donors and researchers who all share an interest in climate services.
The IFRC-IRI forecast map room for Red Cross Red Crescent disaster managers is here.
ICCS3 participants play providers and users of climate information (represented by the small cone) in the educational game Taking science to society, designed by the Climate Centre and the Climate System Analysis Group from the University of Cape Town. (Photo: IRI)