At close of UN climate talks, Secretary-General Ban calls for 'bold announcements and actions'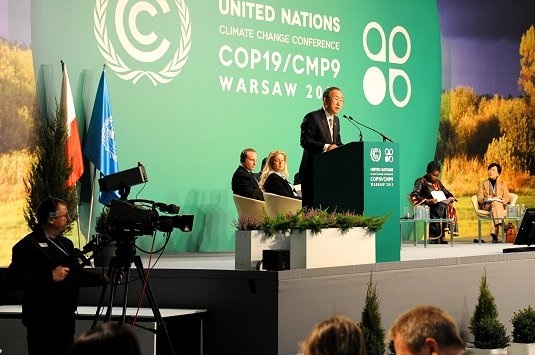 25 November 2013
As the UN-led climate talks in Warsaw – COP 19 – ended on Friday, Secretary-General Ban Ki-moon called for "bold announcements and actions" to reduce greenhouse gas emissions and strengthen adaptation and resilience, according to a UN statement.
His plea was addressed to "world leaders [and others] from business, finance, local government and civil society".
Mr Ban welcomed the decision of the 19th Conference of the Parties to the UN Framework Convention on Climate Change "to intensify immediate actions to fight climate change", and come forward with national contributions to a legally-binding treaty for 2015 that would cut greenhouse gas emissions. The treaty would enter into force by 2020.
 
He said COP 19 was an "important stepping stone" towards a climate deal in 2015, the UN added.
But "much more" needed to be done in the next two years to keep the global temperature rise below the two-degree Celsius threshold.
The Warsaw climate talks were made more urgent by the devastation in Philippines from Typhoon Haiyan and an associated storm surge that killed thousands of people and affected more than 13 million, to which rising sea-levels caused by climate change may have contributed.
Timetable
Compromise language finalized in Warsaw on Friday ended two weeks of talks between diplomats and experts representing nearly 200 nations.
A flexible timetable was laid down for continued work on the 2015 agreement planned for that year's COP 21 in Paris, including a deadline – in the first quarter of 2015 – for countries to publish their targets for emission reductions.
In addition, a compromise was reached on "loss and damage" caused by climate change: this year's COP established a new "Warsaw international mechanism" on loss and damage, but without commitments on compensation requested by some of the most affected developing countries.
On finance – another important topic on this year's agenda – little progress was reported, although some developed countries did make new pledges to existing international climate funds.
"All in all, the outcome, while better than total standstill, further increases the concerns about the pace at which the global community is addressing the causes and consequences of climate change," said Dr Maarten van Aalst, Director of the Climate Centre.
Side-events
The IFRC – National Societies, secretariat and the Climate Centre – has been actively engaged in the COP process for at least a decade in an effort to highlight the humanitarian impacts of climate change, liaising with UNFCCC negotiators and other stakeholders to identify solutions.
It sent a 30-strong delegation to COP 19, comprising National Society members with an interest in climate and technical specialists from the IFRC secretariat and the Climate Centre.
Volunteers from the Polish Red Cross helped staff the IFRC's exhibition stand at the main National Stadium venue, and the delegation organized two important side-events: a workshop co-hosted with the Center for International Forestry Research and other partners, looking at ecosystem- and community-based interventions, and the popular Development and Climate Days over the middle weekend of the COP.
Secretary General Ban Ki-moon at COP 19 last week. As the UN-led climate talks closed, he called for "bold announcements and actions" to reduce greenhouse gas emissions and strengthen adaptation and resilience.
(Photo: 'UNclimatechange' via Flickr)