IFRC engagement with COP 19 side-events gets underway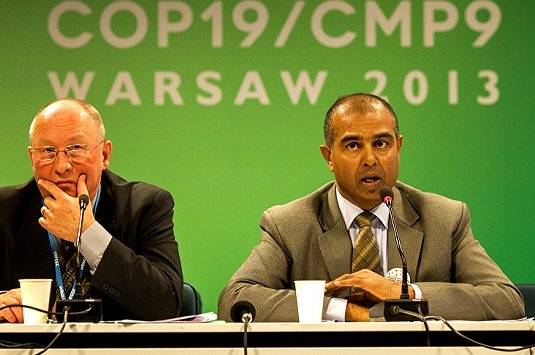 14 November 2013
The first of two official side-events co-hosted by the IFRC delegation at the
COP 19
UN climate talks was held today in the Cracow Room at the National Stadium venue in Warsaw.
A seminar entitled
Linking Adaptation and Mitigation to Address Multiple Risks
was co-hosted by the IFRC and the Center for International Forestry Research (
CIFOR
).
This weekend in Warsaw, the popular Development and Climate Days ("
D&C Days
") – a fixture at COPs for more than a decade – will be hosted by the Climate Centre and bring together policy-makers, scientists and development practitioners.
A member of the global CGIAR consortium, CIFOR conducts research to help shape policy affecting forests in developing countries; it's based in Bogor, Indonesia, with offices in Asia, Africa and South America.
At the COP meeting, the CIFOR, the IFRC and other partners presented new research and field examples on how "synergies and trade-offs" between climate adaptation and mitigation are addressed in projects, policies and funding.
Congo Basin
CIFOR scientists taking part included Bruno Locatelli, whose study revealed how most adaptation projects have the potential to contribute to mitigation and vice versa.
Also presenting were Giacomo Fedele, a CIFOR Research Fellow, and Anne-Marie Tiani, Project Coordinator, Climate Change and Forests in Africa's Congo Basin, whose case studies included a look at "opportunities and barriers" for synergies between adaptation and mitigation in the forests there.
The IFRC was represented by Susil Perera, Geneva-based Senior Officer on Climate Change Adaptation, Shaban Mawanda, Senior Programme Manager on Disaster Risk Reduction with the
Uganda Red Cross Society
, and Julie Arrighi, Uganda Country Representative for the
American Red Cross
and a technical adviser with the Climate Centre.
Susil Perera presented a new IFRC video production on a decade and a half of humanitarian work in Viet Nam to restore and expand protective coastal mangrove plantations. 
Mangrove plantation began there as "community-based disaster risk reduction", he explained, rather than explicitly for climate adaptation or mitigation. 
But now around 100 kilometres of dykes have been protected, and just over 4 per cent of the national mangrove total has been planted by the
Viet Nam Red Cross
; a 2011 evaluation also showed that by 2025, Viet Nam's mangroves will have absorbed 15.6 million tonnes of carbon dioxide.
'A million trees'
Shaban Mawanda said ecosystem degradation was a growing problem in Uganda, where people worry about the security of their livelihoods, and ever-bigger landslides blamed on deforestation are a growing menace. "People talk about mountains moving," he said.
"Last year we had a campaign to plant a million trees," Mr Mawanda said, "and we'll keep renewing it." He advocated "simple, low-cost community actions that can easily be replicated".
Julie Arrighi told the story of Christopher, a skilled Uganda Red Cross volunteer since 2010, who had helped his village construct 1,200 fuel-efficient cooking stoves. Through the Red Cross network was invited to Zimbabwe to train communities there in the same skills.
"The most vulnerable are often the most capable," said Ms Arrighi. "Social mobilization of volunteers can lead to more realistic and practical solutions for the integration of adaptation and mitigation. This will also ensure that the communities' priority risks are the focus." 
Most Red Cross Red Crescent delegates arrived in Warsaw on the 12th and met to discuss the devastation caused in the Philippines by
Typhoon Haiyan
, and how National Societies can help address the humanitarian impacts of climate change. 
Issues agreed to merit special attention were: the relationship between climate change adaptation and disaster risk reduction; awareness, education and training on climate issues; advocacy; and linking climate science and forecasting to "last mile" solutions for saving lives and property. 
A video report on this event by the IISD Reporting Services team in Warsaw is availble here. 
The CIFOR-IFRC side-event at COP 19 in Warsaw, with moderator Markku Kanninen (left) and Susil Perera. (Photo Mariusz Patalan/Climate Centre)