Rising sea-levels make coastal communities more vulnerable to storm surges like Haiyan's, UN climate meeting told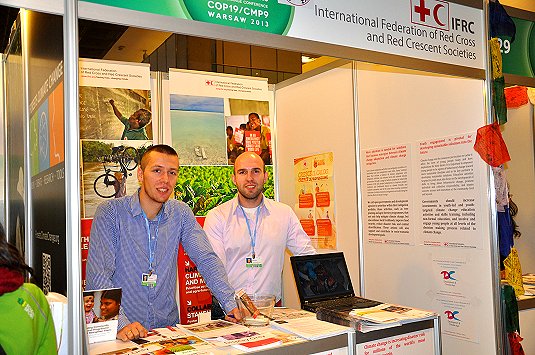 13 November 2013
Global sea-levels have reached a record high, according to a World Meteorological Organization (
WMO
) statement released today to coincide with UN climate talks in Warsaw.
Sea levels have been rising at an average of about 3.2 millimetres a year since more precise measurements by satellite altimeter began in 1993, the WMO said in its provisional 2013
Status of the Global Climate
brief.
This is close to the observed rate of about 3 mm a year over the decade to 2010, but double the observed trend in the 20th century of 1.6 mm a year.
"Sea levels will continue to rise because of melting ice caps and glaciers," said WMO Secretary General Michel Jarraud, presenting the WMO brief at the
COP 19
talks in the Polish capital. 
"More than 90 per cent of the extra heat we are generating from greenhouse gas is absorbed by the oceans, which will consequently continue to warm and expand for hundreds of years," he added.
"Although individual tropical cyclones cannot be directly attributed to climate change, higher sea levels are already making coastal populations more vulnerable to storm surges. 
"We saw this with tragic consequences in the Philippines." 
Seafront 
Surges are large waves that move ahead of a storm system, given momentum and force by the combination of high wind speed and very low atmospheric pressure.
Aerial images of Tacloban City, possibly the part of the central Philippines worst hit by Typhoon Haiyan, show almost total destruction along the seafront – as would be the case with a storm surge or a tsunami.
Reports from the Philippines suggest many casualties may have been people otherwise well used to the high winds of a typhoon who tried to sit out the storm indoors but were swept up in the sea surge.
"Climate change increases both the risk and consequences of disaster for millions of vulnerable people," said Susil Perera,
IFRC
Senior Officer, Climate Change Adaptation, who is in Warsaw to help with Red Cross Red Crescent side-events being held Thursday (
14 November
) and this weekend on "
Development and Climate Days
".
"In the humanitarian sector," he added, "we hope that by spreading knowledge and skills to deal with a crisis at a local level – while advocating for better disaster laws at a governmental level – we can improve response and resilience among those most likely to be at the centre of events."
The WMO described as "extraordinary" the coordination with regional and national meteorological services in the Philippines and Viet Nam over the past two weeks as Typhoon Haiyan bore down on the first human settlements in its path. 
"Without this mobilization," its
website
says, "the tragic loss of life would have been even higher."
The
Philippine Red Cross
also said earlier this week that just under a million people had been successfully evacuated.
Technical specialists
This Thursday's IFRC workshop at COP 19, co-hosted with the Center for International Forestry Research (CIFOR) and other partners, will examine how ecosystem- and community-based interventions can contribute to adaptation and mitigation. 
This weekend the popular D&C Days events – a fixture at COPs for more than a decade – will be hosted by the Climate Centre and bring together policy-makers, scientists and development practitioners.
The IFRC delegation to COP 19 comprises at least 13 National Society members with an interest in climate as well as technical specialists from the IFRC secretariat and the Climate Centre and young people.
Volunteers from the
Polish Red Cross
are helping to staff the IFRC exhibition stand at the main venue in the National Stadium. 
The year 2013 is currently on course to be among the top ten warmest since modern records began in 1850, according to the WMO global brief. 
The January to September period tied with 2003 as the seventh warmest on record, with a global surface temperature of 0.48 C (0.86 F) above the 1961–90 average.
The IFRC exhibition stand at the main COP 19 venue in the National Stadium, Warsaw. Rafal Sakowski (left) and Michal Rejnus of the Polish Red Cross.
(Photo: Fleur Monasso/Climate Centre)