IPCC report: Red Cross Red Crescent stresses urgency of translating latest climate science into concrete action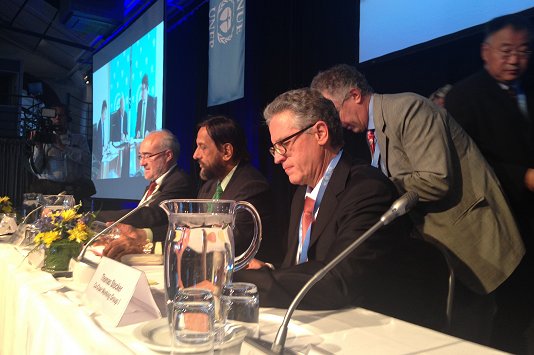 27 September 2013
The official summary of the much-heralded first instalment of the Fifth Assessment Report (AR5) from the Intergovernmental Panel on Climate Change (
IPCC
) was released today at a press conference in the Swedish capital, Stockholm. 
Working Group I (
WGI
) covers the science behind climate change in detail, and will be followed over the next 12 months by three further reports – one on impacts, another on mitigation, and a final synthesis report.
The second of these,
WGII
, which focuses on impacts, adaptation and vulnerability, is traditionally regarded as of most immediate relevance to the humanitarian and development community.
However, the scientific knowledge in WGI report reinforces the concern of the International Federation of Red Cross and Red Crescent Societies' (
IFRC
) about the humanitarian consequences of climate change, and it today calls for the findings to be converted into humanitarian action.
"We need to translate this latest science into concrete, tangible actions at scale on the ground," said Walter Cotte, Under Secretary General for the IFRC Programme Services Division, speaking in Geneva in response to WGI. 
"The even-stronger scientific basis for climate change we see in this report implies worse risks than we already face worldwide. 
"It affirms the urgency of greater efforts to strengthen community resilience and adaptation to ongoing changes, and simultaneously to address the root causes of climate change." 
Human influence
In the second half of the 20th century and up to now, changes in the Earth's climate have included warming of the atmosphere and oceans, reduced snow and ice, and rising sea levels.
"The choices we make right now are vital," said Dr Maarten van Aalst, Director of the Red Cross Red Crescent Climate Centre and an IPCC lead author for WGII, which will release its own report next March.
"This report confirms we have no choice but to adapt to climate change: for the next few decades, whatever we do to cut greenhouse gas emissions will not stop the climate changing, uncertainties about rainfall and weather extremes heightening, or risks rising." 
"In addition, we'll need substantial reductions in emissions to avoid serious consequences in the longer-term: what we do today will determine the climate our children face, and unless we act fast we're more likely to see dramatic impacts." 
The IPCC AR5 report provides the backdrop to future UN climate talks and is being released two years ahead of the 2015 deadline for finalising a comprehensive international climate agreement.
  * It is "extremely likely" that human influence – mainly fossil fuels – has been the dominant cause of the observed increase in global temperature since the mid-20th century. In the language of IPCC reports, "extremely likely" has a precise meaning of at least a 95 per cent chance. Confidence on human responsibility was "very likely'' (at least 90 per cent chance) in the 2007 AR4, "likely'' (at least 66 per cent) in 2001, and just over 50 per cent in the 1995.
  * Global temperature is "likely" to be between 0.3°C and 0.7°C higher in the period 2016–2035 compared to 1986–2005, according to the latest scientifically generated scenarios. Towards the end of the century, temperature rise depends on how emissions evolve, with the most pessimistic scenario "likely" to lead to a range of possible increase from 2.6°C to 4.8°C. 
  * It is "very likely" (at least 90 percent probable) that heatwaves will occur more often and last longer. Most land areas in mid-latitudes and wet tropical regions are "very likely" to see more intense and frequent extreme rainfall events.
  * Sea levels will rise during the 21st century and this is "very likely" to be faster than the rise already observed. Towards the end of the century, sea levels will depend on how emissions evolve, with the most pessimistic scenario "likely" to lead to a range of possible increase of 0.52 to 0.98 of a metre. 
  * There is "high confidence" that increased carbon in the atmosphere is causing
ocean acidification (
with serious consequences for ecosystems and
many coastal communities
in particular). 
  * It is "very likely" that sea ice will continue to shrink in the Arctic and that northern hemisphere spring snow cover will decrease during the 21st century; it is "virtually certain" (99–100 per cent) that permafrost at high northern latitudes will reduce.
  * Continued emissions of greenhouse gases will cause further warming and changes in all components of the climate system. Most aspects of climate change will persist for many centuries even if emissions of CO2 are stopped.
"Vulnerable people will be hit the hardest by the changes that now look inevitable, whatever we do," according to Walter Cotte, "let alone the 2°C- or even 4°C-warming scenarios
explored recently
by the World Bank."
"Existing institutional and community preparedness may be overwhelmed by an increasing number of climate shocks worldwide." 
The collective expertise of the Red Cross Red Crescent in risk reduction efforts and its unique presence at the community level through its vast network of volunteers provide optimal entry points for discussing the impacts of climate change.  
The continued and trusted presence of National Societies within local communities holds great potential for an effective implementation of climate change mitigation and adaptation activities. 
Better projections
"As humanitarians, we need to work faster and more effectively to respond to the increasing frequency and magnitude of disasters – that is a fact," said Ylva Jonsson Stromberg, Swedish Red Cross Head of Disaster Management and Policy, at the IPCC press conference in Stockholm. 
"For us, climate change is real and here. Scientific data is very important, but what really matters is how we use that information to rethink the way we work. 
"The discussion should not get stuck in the levels of certainty: 95 per cent is more than good enough, isn't it?" 
"What the WGI report is telling us is to hurry if we are to stand a chance of adapting."
Scientists' understanding of the Earth's climate has improved in recent years thanks to better satellite technology, ocean buoys and ice-core sampling; parallel advances in computing enable more realistic climate models and better projections. 
The full, accepted text of the WGI report is due to be released online on Monday and the final print version in January 2014.
The IPCC Working Group I report is released at a press conference in Stockholm. From left to right: Michel Jarraud, Secretary-General of the World Meteorological Organization; Rajendra Pachauri, chair of the IPCC; Thomas Stocker, co-chair of Working Group I. (Photo: Paula Alvarado/Swedish Red Cross) 
For more information and to set up interviews, please contact:
In Stockholm…
Paula Alvarado, Communications Consultant, Swedish Red Cross
M +4670 4886292  
E paula.alvarado@seedsforchangeinternational.org
In Geneva…
Benoit Carpentier, Senior Communications Officer, IFRC
M +41792 132413 
E benoit.carpentier@ifrc.org