Integration 'our promise, our legacy, our future,' PfR global work conference told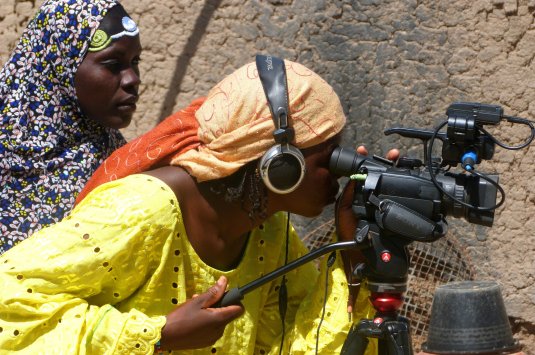 24 September 2013
A four-day global work conference of the Netherlands Partners for Resilience (PfR) got underway at the Theater Concordia in The Hague yesterday – bringing nearly 60 risk-reduction practitioners from Africa, Asia and Latin America together with colleagues from CARE Nederland, Cordaid, the Netherlands Red Cross, the Climate Centre, and Wetlands International. 
The conference will take stock of a recent mid-term review of the 2011–15 PfR programme, facilitate learning between teams from project countries, develop an advocacy agenda for the future, and identify opportunities for future ecosystem-based disaster risk reduction (DRR).
The overall objective was to "inspire future planning, and linking and learning," according to the agenda.
The PfR group and their civil-society partners in the global South combine DRR, climate change adaptation, and ecosystem management and restoration in nine countries.
"Integration is the key issue," said Juriaan Lahr, NLRC Head of International Assistance, in introductory remarks. "It's our promise, our legacy, our future.
"There are a number of pearls of integration around the world, but this learning conference will help us embed the concept further across the whole programme." 
Marie-Jose Vervest, Resilience Programme Manager for Wetlands International, said: "At the halfway mark, partners' awareness of the important role of ecosystems in DRR is now in place, and that's quite a milestone already. 
"But the challenge remains full implementation in the field."  
'Very ambitious'
The €40m PfR programme – co-funded by the
Dutch foreign ministry
and one of the largest of its kind anywhere in the world – has now reached nearly 400 vulnerable communities in Ethiopia, Guatemala, India, Indonesia, Kenya, Mali, Nicaragua, the Philippines and Uganda, at least with risk-mapping fieldwork.
This translates into more than 120,000 female and nearly 140,000 male beneficiaries, according to collated results for 2012.
Activities on the ground include the construction of small reservoirs to improve supplies of drinking water, diversification of livelihoods as a strategy for drought, reforestation of unstable slopes, and early warning early action before disasters.
Thanks to PfR, assessment tools in locations in the project countries now include both risks over time, including climate change, and environmental dimensions such as changes in watersheds. 
But the "various ways of working within the alliance, and the different and sometimes legally sanctioned mandates, are challenges we're seeking to fully overcome," Lahr added.
"Our experience is now followed closely by many practitioners and policy-makers around the world.
"Importantly, in some contexts, local and regional authorities are replicating the approach in other communities, and allocating resources, all of which complements our programme and is a good sign it can deliver sustainable results."
According to a
blog
by Mairi Dupar, Global Public Affairs Co-ordinator for the
Climate and Development Knowledge Network
: "PfR is trying to accomplish something very ambitious. The Partners recognise that a complete transformation is needed in the way that local communities understand, evaluate and manage for climate-related risks."  
Artistic merit
 
One of the highlights of the Monday session was a photo competition in which country-team members had been asked to send in pictures that "told good PfR stories in beautiful, forceful photos."
It was won by Malian photographer Mamadou Marikou, working with Wetlands International (WI) on participatory video training (
pictured
).
"When the Wetlands team arrived in their village, it was the first time they'd seen a video camera," said WI's Bakary Kone, accepting the prize – an album of World Press Photo prize-winners – on behalf of Marikou, who was not able to come to The Hague.
Photographs from Guatemala and Indonesia were voted equal second by conference participants; Kenya came third.
One finalist was selected in advance from each country by a jury, who also awarded a prize for outstanding artistic merit to a second photograph from Indonesia.
Photo finalists have been uploaded onto the Climate Centre's
Flickr
page.
Conference participants on Monday took part in an ideas "marketplace" at which country teams were able to trade materials, experiences, best practice and lessons learned.
The Partners for Resilience are also beginning to explore ways to sustain the programme after 2015, when Netherlands government funding ends. 
Two community leaders in Bussi village in Mali's Borondougou district take part in PfR participatory video training, organized by Wetlands International. Diko Demba Timbota, 29, operates the camera; behind her is Nana Mah Traore, 26. 
(Photo: Mamadou Marikou/Wetlands International)