'Upriver': a game of flood preparedness in the Zambezi valley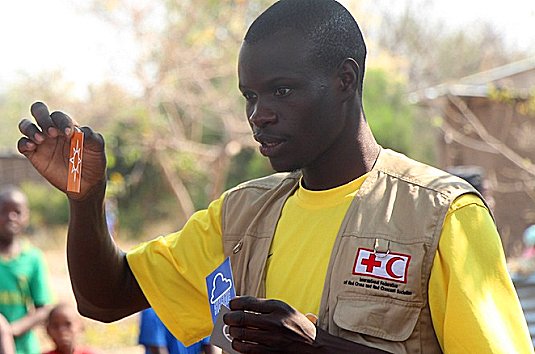 10 September 2013
A groundbreaking collaboration got underway last month between the Zambian Red Cross (
ZRC
), the Boston-based Engagement Game Lab (
EGL
) at Emerson College, and the Climate Centre, resulting in a new experimental programme that uses games for facilitating real-world action for flood prevention and emergency communications in the Zambezi valley. 
The team in Zambia is developing a game called Upriver to help people understand what happens during floods and to take part in early-warning communications by SMS. 
EGL is a Boston-based applied research lab that designs and studies games for civic engagement and real-world action. 
'Completely predictable'
"The Zambian Red Cross hopes eventually to bring the game to flood-prone communities throughout the country," says Wisford Mudenda, the ZRC's head of disaster management.
"Every year, people die in completely predictable floods," according to the
EGL website
. 
"A rainstorm in the mountains overflows the banks of the Zambezi river, and water flows downstream, hitting each population…from the source of the flood to the sea, where the river empties."
The hope now is that through experiential learning, Upriver will generate increased feelings of ownership of flood preparation, and deepen engagement with the issues and the science behind it.
Upriver aims not only to teach fundamental concepts of river flow, forecasting and floods, but also incentivize real-world actions like: 
•
Combining reports from communities to increase the accuracy of computer models 
•
Building people's trust in the models
•
Helping people communicate by SMS by giving phone cards to game winners 
•
Encouraging people living along the river to communicate more widely
"The IFRC is also supporting the Zambian Red Cross in implementing the Zambezi River Basin Initiative," Mudenda adds. 
"The goal of ZRBI is to reduce the impact of challenges facing communities along the Zambezi river basin, and improve the quality of their lives and livelihoods."
Flows and floods
The first stage of the Upriver game was tried out in the Zambian capital, Lusaka, and Zambezi communities like Livingstone, Mwandi, Sikaunzwe and (pictured) Kazungula. 
It is played with sponges and cups of water to mimic the flow of river water and illustrate basic principles of upstream-downstream flows and floods. 
In the second stage of the game, players will use SMS messages to gather information about, report, and predict water levels.
The ZRC, EGL and Climate Centre are analyzing data from these initial tests and focus groups to prepare the next steps in Upriver's design and implementation.
Zambian Red Cross Project Officer Moono Mutambwa facilitating the Upriver game for players in Kazungula, and explaining how weather cards work. These are one factor in determining if water levels will rise or fall. (Still image: Stephen Walter/EGL)