'Thankyou so much!' says star of second Pacific climate animation (reggae parrot)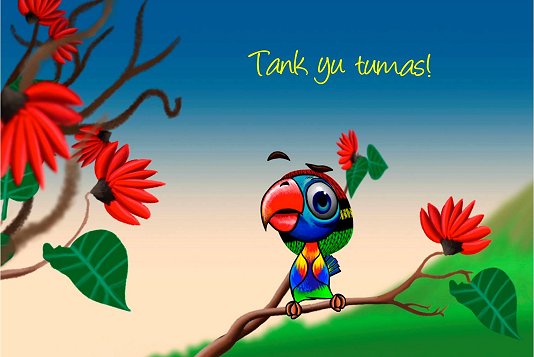 3 September 2013
The second of two animations integrating climate and disaster preparedness in the Pacific in an entertaining and accessible way is now available for download, along with a range of educational materials in Bislama – one of the languages of Vanuatu – and English and French.
The film,
Cloud Nasara
, centres on the impacts of El Niño and La Niña on Vanuatu and encourages people to take early action to prepare; the Vanuatu island group can be severely affected, experiencing very dry or wet conditions. 
Along with other extreme events like cyclones, they have serious impacts on water quality, food security, homes and roads, livelihoods and health. 
The 2010–11 La Niña, for example, is believed to have contributed to
drought in Tuvalu
and
floods in Fiji
, which the local Red Cross worked hard to alleviate.  
Mythical village 
Climate and weather information, warnings and forecasts "can help us anticipate and prepare for changing risks," according to the Australian government's
Pacific climate change science website
.
Cloud Nasara's mythical story features a village meeting-place in the clouds, high above the Pacific, and a cast of characters that includes a reggae parrot and a string band.
Preparedness measures can be simple and low cost: the danger of disease outbreaks increases during droughts, for example, so simple measures such as intensified hand-washing can help.
Water can be conserved as a contingency for droughts; trenches dug ahead of floods can improve drainage and avoid damage to houses and crops.
A second animated film that integrates climate science and disaster preparedness encourages Pacific islanders to take early action in preparing for extreme-weather events and stars a reggae parrot. (Image from Cloud Nasara project)