CU-Boulder students focus on aid policies in new Red Cross partnership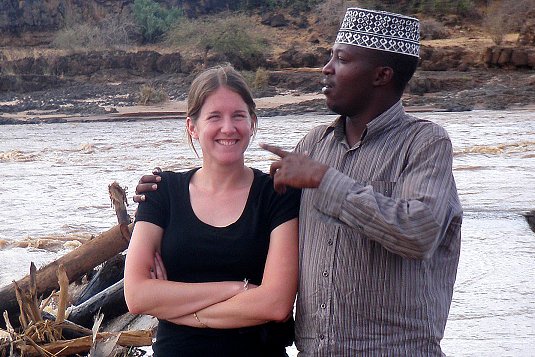 9 July 2013
The Red Cross Red Crescent Climate Centre and the University of Colorado at Boulder have linked up to send CU graduate students to Africa for a three-month internship programme focusing on climate.
Lisa Dilling, co-director of the Red Cross Red Crescent programme at CU, said the internships will give participants a chance to use climate-based research in real world decision-making and generate effective environmental policies and practices for humanitarian aid efforts. 
"This programme essentially puts our student's intellectual learning on the ground," Dilling said. 
"It gives our graduate students some practice with usable climate information, and allows them to go to an organization and put resources in place for humanitarian aid." 
This is the first year CU has partnered with the Climate Centre, but the programme has been working with Columbia, Oxford and Yale Universities for several years. 
Meaghan Daly, a PhD student in environmental studies at CU, completed the internship in 2009 through the Climate and Society master's programme at Columbia University. 
Skills
She said she was excited to hear that programme co-director Max Boykoff and Dilling had initiated an effort to institute a partnership with CU. 
"There is a lot of useful scientific information out there that has the potential to make a significant impact on society, but there are challenges in making sure that this knowledge is successfully put into practice," Daly said.
This summer, three CU environmental studies graduate students are working with the Climate Centre programme in Kenya, Uganda and Zambia. 
The students arrived in Africa in mid-May and will return in August.
Arielle Tozier de la Poterie is assisting the
Ugandan
and
German Red Cross
in Uganda, training Ugandan volunteers to conduct evaluations. 
She'll be travelling in the area in the coming weeks to ensure assessments are being carried out smoothly.
"It feels more like a consulting job than an internship," de la Poterie said. "There is a definite role for my skills, not because people here cannot do what I am doing, but because resources are limited, so additional manpower is helpful."
While in Isiolo, she is conducting interviews in seven different communities and identifying alternative livelihoods for local people that will benefit the local climate and ecosystem.
'Human-wildlife conflict'
Her project's aim is to determine how humanitarian aid workers and susceptible communities along the Zambezi River can use flood forecasts to avoid damages and losses caused by floods. 
Venkateswaran says the plan is to make early warning systems a community-based initiative, which will allow locals to continually assess and develop the system. 
"It's been great to have an opportunity to learn about climate change adaptation in a completely different cultural context," said Venkateswaran, who had previously conducted research in India. 
"Overall, I'm learning a lot here every day, and not just about disaster management –
I've been learning about human-wildlife conflict, deep-set political and social vulnerabilities, degradation, and so on."
Venkateswaran says the Zambian Red Cross has made her feel welcome and integrated in the research process.
"I've been given a lot of independence in terms of determining my research objectives and designing methodologies, and the Red Cross has been excellent about supporting my research needs," Venkateswaran said. 
                                                                             *
Amy Quandt adds: We began our surveys in a remote, dusty village called Basa: the pastoral community has been severely affected by climate change, and community members are struggling to maintain their livelihoods. Many people have lost all their livestock to drought. 
With encouragement from the Partners for Resilience, some vulnerable community members turned to farming along the nearby Ewaso Nyiro river. This proved fairly successful, and the farms are helping people survive in the face of drought and climate change. 
However, floods are also problematic, and many people lose their farms when the river floods. 
Basa is an interesting example of a community threatened by climate change and in desperate need of alternative livelihood options, which is what my survey hopes to provide. 
Amy Quandt pictured with her colleague Yunus Antony Kimathi standing on the banks of the Ewaso Nyiro river, whose flow is getting harder and harder to predict, in the arid north of Kenya. (Photo: Kenya Red Cross)