Tackling climate risks: IFRC and World Meteorological Organization sign new agreement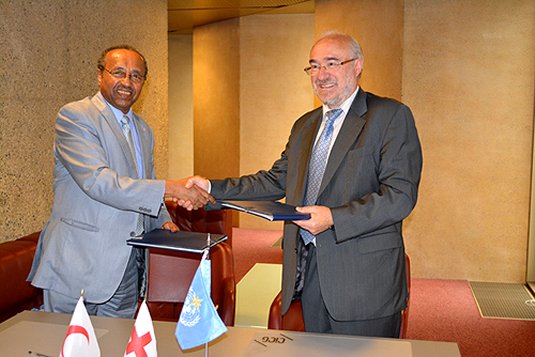 4 July 2013
The International Federation of Red Cross and Red Crescent Societies (IFRC) and the World Meteorological Organization (WMO) will work together to reduce the risk of climate-related hazards facing vulnerable communities around the world. 
The two organizations, which have collaborated on disaster risk for many years, signed a memorandum of understanding in Geneva yesterday during the
Intergovernmental Board on Climate Services
.
WMO Secretary General Michael Jarraud and Bekele Geleta, Secretary General of the IFRC, underlined the importance of making evidence-based climate information and prediction available to vulnerable communities.
"The IFRC's 187 National Societies work closely with many of the world's most vulnerable communities," said Mr Jarraud. 
"This partnership will continue to play a vital role in empowering these communities to respond to climate-related disasters and risks."
'Effective early warning'
Mr Geleta said the partnership will pave the way for the Red Cross Red Crescent to provide improved services for those most vulnerable to climate-related hazards.
"While progress has been made in building effective early warning systems," he added, "we must continue to develop and improve if our interventions are to be effective." 
"Public education and awareness of the early warning, early action approach will also build the resilience of communities and give vulnerable people the tools and knowledge they need to improve – and even save – their own lives. 
"The information must be accessible and comprehensible by end-users," he added.
The Secretaries General of the IFRC and WMO signing a memorandum of understanding at the meeting of the Intergovernmental Board on Climate Services. (Photo: IFRC)