Fiji premiere for Pacific climate and preparedness animation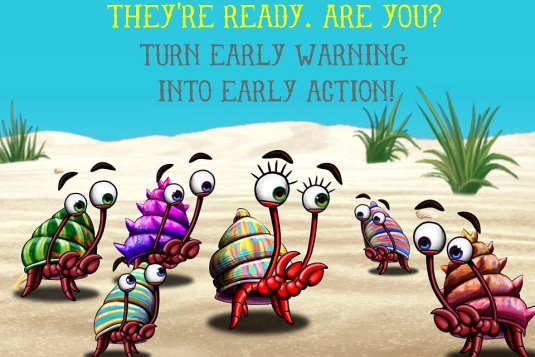 3 July 2013
An animated film that integrates climate science and disaster preparedness – The Pacific Adventures of the Climate Crab – premiered last night at the Pacific Meteorological Council in Nadi, Fiji. 
It's intended to raise awareness of the science and impacts of El Niño/La Niña, and encourage Pacific islanders to take early action to prepare for extreme-weather events.
The film stars a comical but highly resilient crab and follows her escapades across the Pacific, in which island nations can experience very wet or dry conditions as a result of El Niño/La Niña. 
With extreme events like cyclones, these can have serious impacts on water quality, food security, infrastructure like houses and roads, livelihoods and health. 
For example, the 2010–11 La Niña resulted in the Red Cross working to alleviate the impacts of drought in Tuvalu and floods in Fiji.
Decision-making, action
Good quality climate and weather information, warnings and forecasts can prepare people for changing risks. 
Preparedness measures can be simple and low cost: the danger of disease outbreaks increases during periods of drought, for example, so focusing on simple measures such as washing hands can help.
Water can be conserved ahead of droughts; trenches dug or cleared ahead of floods can improve drainage and avoid damage to houses and crops.
But research by the Climate Centre found that, globally, there are only a few simple materials for training that link information about climate variability – El Niño and La Niña – and climate change.
To fill this gap, climate scientists, humanitarians, technical experts, artists and film-makers teamed up to produce the humorous four-minute film.
It comes with a toolkit to link the information in the animation to decision-making and action on the ground.
Collaboration
This is the first of two films: a second short called
Cloud Nasara
, being launched later this month, focuses on Vanuatu and features a reggae parrot and "dancing-cloud" parties.
The climate crab animation will be distributed to Red Cross National Society branches across the Pacific. 
A new animated film that integrates climate science and disaster preparedness encourages Pacific islanders to take early action in preparing for extreme-weather events, and stars a comic but highly resilient crab. (Image from The Pacific Adventures of the Climate Crab)