'Climate Forum East' launched by Austrian Red Cross and 6 National Society partners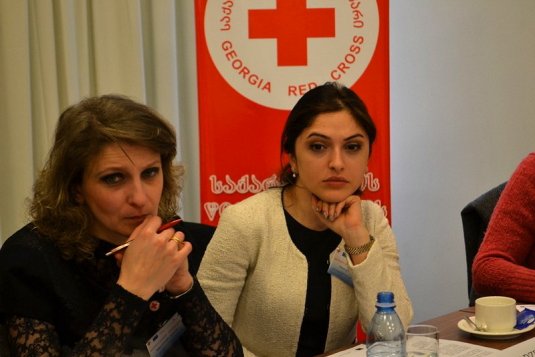 28 May 2013
The 'Climate Forum East' project for Armenia, Azerbaijan, Belarus, Georgia, Moldova and the Ukraine – co-funded by the European Union, the Austrian government and Red Cross and WWF International – has been launched with inaugural meetings by the National Societies involved.
Civil society actors met government officials and academics to share experience to identify the sectors that are most vulnerable to climate change and extreme weather.
Natalia Gozak from WWF who attended the meeting in Kiev, Ukraine, drew attention to the recent coldwave in the country: "Changes have happened much faster than we expected five years ago. 
"We are now observing drastic climate change that affects our daily lives. Let's remember the events in Ukraine this March…the capital and consequently the country is not ready for such weather conditions."
Hazards
EU "Eastern Partnership" countries are all regarded as vulnerable to natural hazards and extreme weather. 
Strong environmental legislation, robust adaptation measures and an active civil society are seen as crucial to future prosperity, but awareness of the issue is very limited.
The main goal of Climate Forum East is to build the capacity of civil society to engage with policy-making and contribute to the political agenda in environmental governance and climate change. 
The project also aims to contribute to global policy-making by encouraging civil society input to national communications for the UN Framework Convention on Climate Change.
National network
Each country will build a national network of civil society organizations, government ministries, research institutions and other stakeholders to share information and knowledge on climate change.
Central to this will be the development by these networks of national and regional climate vulnerability assessments, the identification of sectors and groups in each country which are most vulnerable to climate change and extreme weather, and concrete recommendations for decision-makers and civil society to address adaptation gaps.
The networks will also work with young people and local communities to raise awareness about climate change and encourage their engagement with decision-makers and participation in the policy-making process. 
Georgia Red Cross Secretary General Medea Margania-Avalani (left) and the National Society's President, Natia Loladze, at the inaugural meeting in Tbilisi for the Climate East Forum. (Photo: GRCS)