What binds us? Global Platform side-event asks. (Working on resilience)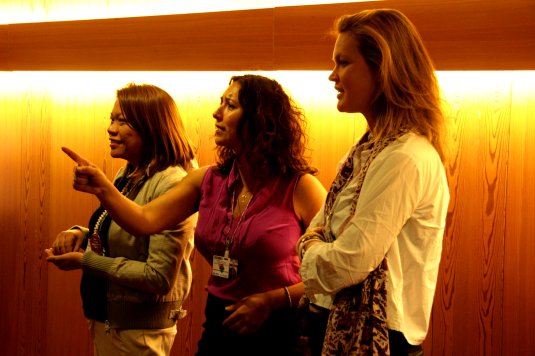 24 May 2013
The Fourth Session of the Global Platform for Disaster Risk Reduction (DRR), chaired by Switzerland, ended in Geneva yesterday, after bringing together 3,500 officials, NGOs, parliamentarians, businesspeople, academics and scientists from nearly all the countries of the world.
The biennial Global Platform builds on regional equivalents and preparatory meetings convened by national and local governments, civil society agencies, and National Societies of the Red Cross Red Crescent.
Some results have been achieved in recent years, according to a
statement
issued after the official high-level dialogue, "like the reduction of mortality from weather-related disasters in particular, [but] risk continues to increase due to the existing public and private investment policies and development practices.
"Poor land-use planning and regulation, the lack of awareness, the increase in weather-related hazards and the impacts of climate change are key elements which contribute to this trend."
'Mutual reinforcement'
A draft "
Chair's Summary
", highlighting key messages from the plenary session, has been posted and is open for comment until 31 May.
Headed Resilient People, Resilient Planet, it points out that "countless" local events and everyday stresses threaten many communities: "This is particularly the case in drought-prone areas subject to desertification, where food security and livelihoods are directly at risk, and in small island developing states, where exposure is high."
It adds that "processes that result [in] risk reduction are closely intertwined with those pertaining to sustainable development, environment and climate change
impact. 
"It is imperative to seek the mutual reinforcement of these agendas…Development cannot be sustained and resilient unless disaster risk is explicitly addressed.
The Netherlands Partners for Resilience (
PfR
) – CARE Nederland, Cordaid, the Netherlands Red Cross, the Red Cross/Red Crescent Climate Centre and Wetlands International – presented
case studies and lessons learned
from what's now two years' worth of joint programming in nine countries.
DRR can be fun 
Some 200 practitioners at a side-event PfR organized with ActionAid, the Emergency Capacity Building Project and the IFRC – What binds us – agreed that DRR post-2015 should prioritize risk reduction measures for the most vulnerable people. 
The session "increased the conviction of the participants that working on resilience binds the development, humanitarian and environmental sectors," according to Madeleen Helmer, Climate Centre Director of Policy and Communication, who moderated.
There was general agreement that vulnerable people should be the priority of any intervention aimed at reducing disaster risk. 
No single agency can possess all the necessary knowledge, expertise and resources, it was felt, so for any intervention to be effective, collaboration among stakeholders is vital – each working within its own mandate. 
The PfR were also among the organizers of a three-day "open-dialogue area" in the basement of the conference centre: education practitioners and community organizations were invited to "showcase innovative public-awareness materials and educational approaches promoting DRR information and action". 
That event concluded yesterday with a "DRR can be fun" closing party.
Participants at a Global Platform side-event organized by the Netherlands Partners for Resilience and other agencies. (Photo: Raimond Duijsens/NLRC)