'A bright future' for farmers in Yatta, Kenya, thanks to climate-smart cassava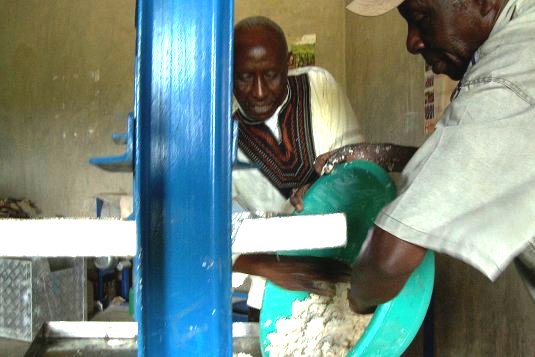 23 May 2013
The Kenya Red Cross Society's (KRCS) drive to reinforce the climate-resilience of food supplies in the aftermath of drought that affected millions has continued to pay dividends in Machakos district, south-east of Nairobi, a visiting Climate Centre film crew found. 
"We can see a bright future for our farmers," says David Muoka, a member of the Yatta Farm Growers and Processors Community-Based Organization (CBO), in the film
Mbaitu tuvandei manga
("Let's plant cassava"), made by Daniel Stephens of '
goodfocus
' films.
After many years of food insecurity, crop failure, and dependence on relief, the KRCS is working with local farmers and the Kenya Agricultural Research Institute to develop drought-resistant crops like cassava. 
"It's the only crop that can do well, come drought, come floods," Muoka explains. 
"With the modern way of life, most people had abandoned cassava, but now we are going back to it because of climate change."
Agricultural revolution?
With their profits from adding value to newly harvested cassava, the Yatta farmers have bought processing machinery and are on the verge of what may be – proportionately at least – a local agricultural revolution.
"We chip it, dry it and mill it," says Muoka; with cassava products like bread, chapattis and doughnuts, an income emerges that can a lift a community out of subsistence farming altogether.
The "bottleneck" facing the Yatta farmers at the moment is the lack of a mechanical dryer to go with the other machines, according to farmer Daniel Maputi, who says he has lived from the land all his life and "never been employed by anyone". 
After chipping, the cassava is spread out in the open, but last year they suffered serious losses because of cloudy weather.  
When the Climate Centre first visited Machakos a year ago to document
a case study
on the climate-smart cassava, it found the KRCS helping communities decide their own development priorities. 
"We have big plans to build a cassava factory, to try and industrialize the village," David Muoka said then. "This is our wish, God willing." 
Cassava processing machinery at the Yatta farmers' CBO. Cassava generates income for the community from products like bread, chapattis and doughnuts.
(Image: Daniel Stephens)