Climate games return to US capital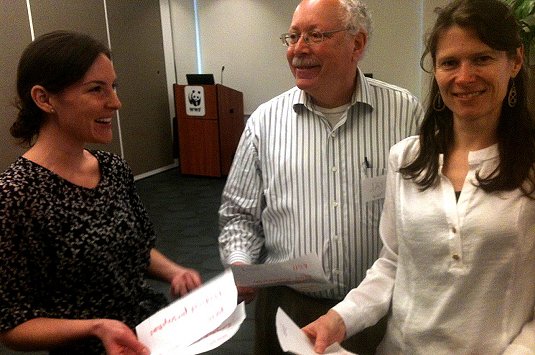 2 May 2013
Six months after demonstrating the Frisbee "hurricane game" at the White House, the Red Cross Red Crescent Climate Centre this week returned to the US capital to jointly organize a training seminar for would-be games facilitators.
Together with the Washington, DC-based
International START Secretariat
, the Climate Centre organized a two-day workshop on climate-related educational games that was hosted by the US branch of the global conservation organization
WWF
.
The "train the trainers" session included 15 practitioners, who got things going with an "answer with your feet" ice-breaker. 
The Climate Centre's Associate Director for Research and Innovation, Dr Pablo Suarez, explained the usefulness – and growing popularity – of games as an educational tool to improve humanitarian decision-making in a world of heightened uncertainty.
'Intensity, connection, interaction'
"The default approach in training of all kinds is a sequence of PowerPoints followed by questions and answers," says Dr Suarez, "but this can be a very inefficient use of time.
"It's all in one direction and most people are passive. But with participatory methods like games, every person's brainpower is at work – you get more intensity, more connection, more interaction."
It was partly a response to the fast-growing demand for educational games and people to run them, from agencies such as the American Red Cross and other members of the global Red Cross Red Crescent Movement, Oxfam, USAID and the World Bank.
Subsistence farmers
The Washington, DC training session was co-facilitated by Lisette Braman, Climate Risk Advisor with the International Services division of the American Red Cross, and Shaun Martin, Climate Change Adaptation Senior Director with WWF-US.
With academic partners like Parsons The New School for Design in New York City and thanks to support from the American Red Cross and CDKN, the Climate Centre has been able to significantly scale-up its games programme in 2012. 
More than 120 game-events in at least 30 countries reached some 3,000 stakeholders – ranging from subsistence farmers developing contingency plans for flooding to municipal disaster managers in Argentina to finance-ministry staff involved in an Africa-wide disaster insurance project.
Left to right: Sarah Schweizer (START), Jay Sherman (WWF) and Sara Sywulka (Food for the Hungry) at the Washington, DC "training the trainers" games workshop.
(Photo: Climate Centre)