A minute's silence for Bangladesh's Rana Plaza tragedy as adaptation conference closes nearby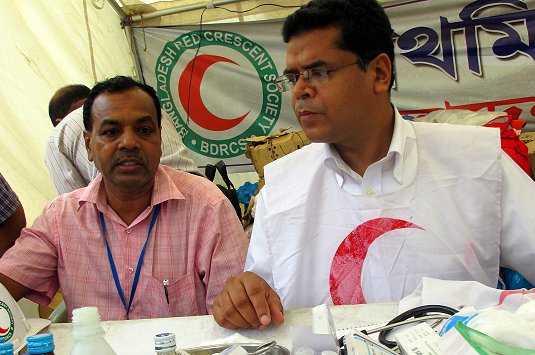 26 April 2013
The week-long 7th International Conference on Community-Based Adaptation ("
CBA7
") ended in the Bangladesh capital Dhaka yesterday, after what organizers described as a "huge turnout".
Some 250 international and 50 Bangladeshi members of the climate adaptation "community of practice" attended the conference; another 1,500 joined online as "virtual" participants and many more through social media.
Participants stood for a minute's silence for the people killed and the many still missing after the collapse of the Rana Plaza building, which housed garment workshops. 
As the conference closed, news reports said the military and emergency services were still working round the clock to find survivors, using heavy lifting gear, tools and their bare hands. 
Bangladesh Red Crescent Society (
BDRCS
) volunteers were running a shift system at the site to provide additional search and rescue services, as well as first aid and drinking water. 
Outcomes
CBA7 sessions explored how to mainstream community-based adaptation in national and local planning. 
Topics included adaptation in sectors such as water, agriculture, food security, ecosystems, disaster risk reduction, economics, health, urban areas, children, gender, migration and population.
"This time we made a special effort to bring governments in," said Dr Saleemul Huq, a senior fellow with the International Organization for Environment and Development (
IIED
) in London, the joint organizers.
"We had 30 or 40 government representatives from developing countries, mainly Africa and Asia. 
"One of the major outcomes that we hadn't anticipated was that government officials formed their own group for climate change mainstreaming, and have decided to take this forward and bring other people on board, which is excellent."
'Complexity of decisions'
Another encouraging outcome, according to Dr Huq, was that the CBA community of practice itself had "grown enormously".
"We've been webcasting and having all kinds of interactions on the internet, and over 7,000 people have been watching and interacting with us here, which shows the level of interest – from all over the world."
The Red Cross Red Crescent Climate Centre ran a special educational games session at CBA7 to "capture the complexity of decisions in a changing climate", as Dr Pablo Suarez, its associate director for research and innovation, put it in
a video interview
in Dhaka.
Games, said Dr Suarez, create "new forms of dialogue, new forms of learning, new forms of awareness, and bonding." 
Players saw that "knowledge about future conditions is very useful but not enough – you also need to know what you are going to do once the information becomes available". 
Dr Suarez added: "We see the desire to do more together, which is what we had here today. People were playing, having a good time, and now they're having conversations: 'Can I work with you? Just like we worked in the game.'"
Bangladesh Red Crescent Society (BDRCS) medics at the site of the Rana Plaza tragedy in Dhaka, where delegates at the CBA7 conference stood for a minute's silence for the dead and missing. BDRCS volunteers were running a shift system to provide additional search and rescue services, as well as first aid and drinking water. 
(Photo: Maherin Ahmed/IFRC)